Best Top Santa Barbara Wedding DJ Reviews
Wedding DJs in Santa Barbara, CA – Reviews for DJs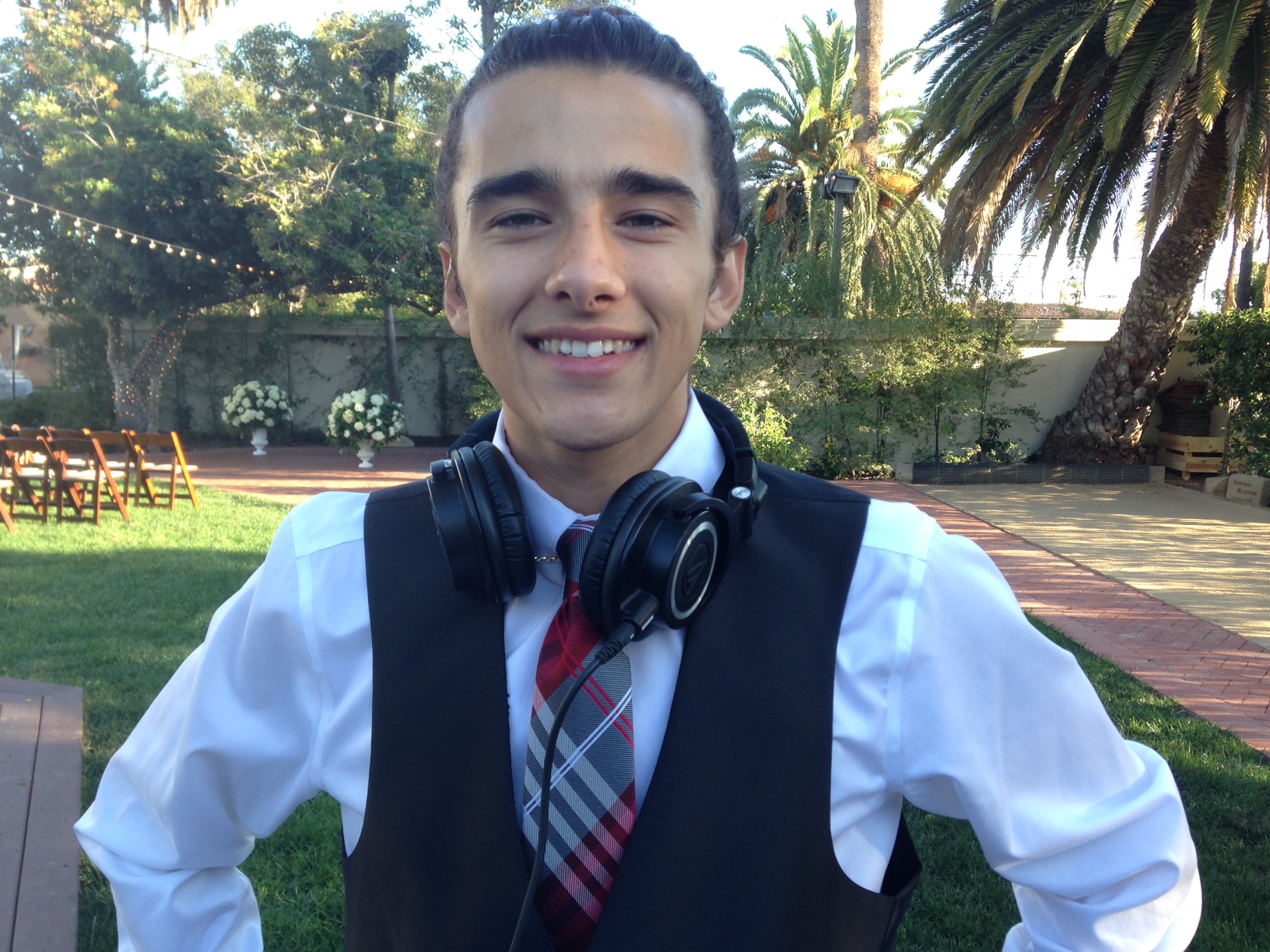 THE BEST DJs in Santa Barbara, CA
Santa Barbara Wedding DJs – Reviews
Reviews for Scott Topper DJ Productions
Matt · married on 10/19/2019
Awesome time
Scott Topper was one of the best DJs and kept the party going all night long even when the hotel venue turned on the HEAT when it was 75 degrees outside. He brought down the tempo enough for people to get water or other beverages, grab a breather, then get back out on the dance floor. From the minute we walked through the door to the minute we left everyone had a great time. He was proactive on getting everything lined up perfectly. If you're not hiring Scott Topper then you're making a mistake.
Sent on 10/24/2019
Katie · married on 07/08/2017
Scott did the most amazing job as the DJ at our wedding! For us, having a killer dance party was our number one priority for our reception, and Scott did not disappoint! The dance floor was packed the entire night, with guests of all ages. We had guests telling us that the songs were so consistently great, they didn't even want to leave the dance floor to go to the bathroom! Scott also did a great job as our MC, helping us effortlessly stay on our timeline, and adding fun and excitement to the night with his charismatic personality. Hiring Scott as our DJ was one of the best decisions we made in all of our wedding planning, and we would whole-heartedly recommend him to anyone looking to throw a great party!
Sent on 07/11/2017
Kari · married on 03/18/2017
Almost 3 months later and we are still talking about how our wedding rocked!! From the ceremony to the cocktail hour to the reception. Scott Topper knocked it out of the park!
He was professional, organized, super friendly, easy to work with (up to and including the day of our wedding), and arrived early to make sure everything was set up correctly. Scott has excellent communication skills as he took the time to work on our time line with us as well as went over our music list with us to make sure we had all the music we wanted. During the reception, he got the crowd dancing beginning with the Horah and kept the dance party going with excellent music and his vibrant personality and energy the entire evening! The conga line was awesome! Our guests had a fantastic time and RAVED to us about Scott! We know our wedding would not have been as fun if we didn't hire Scott! HE ROCKS! #BESTDJEVER! My husband, Eric and I HIGHLY recommend Scott Topper Productions for your next party, wedding, bar mitzvah, you name it….you won't be sorry!! TRUST US!
Sent on 06/14/2017
Ranjani · married on 11/13/2016
Scott was so great, I can't recommend him enough. He created such an awesome party vibe for our reception – everyone danced until the very last minute. He was very attentive to our requests, which was incredible because my family is Indian and he went out of his way to find fifty or so Indian songs to play during dinner/cocktail hour. We also had a Hindu ceremony which required very specific music and timing, and Scott handled it perfectly!! Everyone was very impressed with Scott. Besides that, he's just a lot of fun. We met with Scott twice before the wedding, and he was so much fun to work with. He's a genuinely kind and helpful guy. At the reception, he created such a good vibe. I've been to weddings where the DJ is very detached and boring – not so with Scott. He was partying with us and I was so sad when the reception had to end. He also has a great selection of uplighting, made the room look gorgeous. Book him!
Sent on 11/29/2016
Anna · married on 10/15/2016
DJ Scott Topper was so fun at our wedding! We're both half Jewish and decided to do a Hora, and I really appreciated that he walked the guests through the whole process since a lot of them are not Jewish and have maybe never been part of one before. It was a big hit! He also extended two hours beyond what we booked him for super last minute, and I'm so glad that we did that! He was great to work with.
Sent on 10/31/2016
SCOTT TOPPER DJ PRODUCTIONS'S REPLY:
Thanks Anna for your kind words. Your Wedding Ceremony, Reception and After Party were great FUN! Congrats again!
Peter · married on 10/08/2016
Scott and DJ David really rocked the party up in Ojai. The dance floor (which Scott installed himself) was packed all night. I don't think I've ever been to a wedding where people danced as much as ours, so I felt amazing about the whole experience. Our idea was that if you get the older folks up and dancing the kids will come on and dance to anything. DJ David totally agreed with us and really helped shaped the mood of the night. Also the little MC touches of announcing what is happening really kept the night together. I could see it coming unglued if we didn't have DJ David guiding the reception. Overall they were very professional and self sufficient. It was one of the easiest parts of planning the wedding and ended up being one of the best parts of the entire day. Thanks Scott!
Sent on 10/27/2016
Alison · married on 09/24/2016
I could not be more happy with my choice of Scott Topper for our wedding DJ. He was professional, friendly, and accommodated all of our requests. So many of our guests complimented us on our music selection, and the dance floor was packed all night. Scott kept the momentum going, and kept things running smoothly. I would HIGHLY recommend Scott Topper Productions for any event you need a DJ for. I would absolutely return to him for future events. Thanks Scott!
Sent on 10/09/2016
Dionne · married on 08/20/2016
Scott is extremely friendly and personable and I was able to connect with him immediately over the phone, which was important to me since I was planning our Wedding from out of town. Scott was very patient and professional and took the time to get to know me, my Fiancé and our needs for our day. I never once felt rushed or that he was being pushy with any upgrades, etc. I appreciated his honesty in what he felt we needed versus what was extra. Also, Scott was extremely prompt on the day of and had a great, happy attitude during our entire event. He read our crowd so well during the dancing portion and even took requests as they came in, which made everyone happy. We were so bummed when the last song rolled around – no one wanted to stop dancing! He was also great about checking in with me and our planner to ensure we were all on the same page throughout the night and keeping the timeline on track. He truly had the best value out there for our needs and was a complete pleasure to work with! Thank you Scott!
Sent on 12/31/2016
Danielle · married on 08/05/2016
Scott is heaven sent to work with and has been so supportive of our new event venue, K'Syrah, in Solvang. He was able to provide us one of his best Santa Ynez Valley based DJ's, Daniel, for our big opening bash. Daniel was super professional, read the crowd wonderfully and made the event that much more special. We highly recommend Scott Topper Productions for your next event, they will not disappoint!
Sent on 10/13/2016
SCOTT TOPPER DJ PRODUCTIONS'S REPLY:
Thanks so very much Danielle! We love your new venue and we are excited to DJ more events with you soon!
Vicky
Vicky · married on 07/17/2016
My wife and I are from Philadelphia and we wanted to celebrate our wedding down in Santa Barbara. My wife researched for the best DJs in Santa Barbara and found Scott's show "It's Show Time!" and immediately decided that he was the one! When we booked Scott Topper as our DJ we didn't know how popular he was since he was very humble about it. Our wedding coordinator and our venue mentioned how good he was after they learned he was our DJ. When we met him for our first meeting he was very professional and friendly and he also revealed to that he was initially from Philly too! It was great to learn his history and also helped us learn how far his experience DJ-ing has taken him. We definitely felt very comfortable with him immediately,. He gave us a easy to follow and adaptable outline and he walked us through the process of how we can piece up our song selections per main events of the wedding and how he can adapt the flow of music selection depending on the schedule. It was easy to correspond through email and he was able to answer any questions asked by us or our coordinator. On the day of the wedding, he was awesome, all the music choices went perfectly well together and he was great as the MC too. He was able to work very well with our coordinator on keeping to the schedule. When guests requested songs during the dance section he was respectful enough to come to me and my wife to see if we were OK to push a song into the selection. Overall, it was a great experience having Scott Topper as our DJ and we highly recommend him to anyone looking for the best DJ around!
Sent on 08/05/2016
Alan · married on 06/26/2016
Wedding at Beckmen Vineyards, Los Olivos. Scot Topper was excellent, from our first meeting to accomodating our requirements remotely, playing all of our requested tunes and making sure the dance floor was always filled. Scotts very friendly and professional manner helped make our wedding ceremony and reception exceptional.
Sent on 07/09/2016
Laurel · married on 05/14/2016
Scott loves what he does for a living, and that makes him a great person to work with. Scott Topper Productions provided MC/ DJ, up-lighting, and a photo booth for our 5/14/16 wedding in Santa Barbara. Scott is competitively priced, organized, knowledgeable and responsive. Scott answered all of my emails promptly, provided valuable recommendations, and even worked with our wedding coordinator (KB Events) effortlessly. Music is a very important aspect of a wedding, and it is especially important to me personally. Scott took all of my music selections and enhanced and added to the playlist to create a consistent and fun vibe on our wedding day. His team was courteous, professional and prompt. I would highly recommend Scott Topper Productions for your special event.
Sent on 07/13/2016
User6556406 · 2+ years ago
I was the wedding coordinator for a wedding that Scott DJ'd. Scott easily earned a 5 star rating! He was also responsive during the pre-wedding coordinator, always answered emails promptly and answered all questions we had. The day of he showed up EARLY, which I love. Had everything set up and time and ready to go. Everything went very smoothly and I would definitely recommend Scott to any other clients. People don't realize how important DJ's are at a wedding because once the reception starts, they run the show. If they don't have their act together, the reception will fall apart. Scott came ready with his timeline and run of show, keeping the event smooth, on time, and so fun!!
Sent on 04/04/2016
Summer · married on 03/26/2016
My husband and I got married a year ago at the Fess Parker in Santa Barbara, and Scott was our MC and DJ. He was wonderful! I'm sure we drove him nuts, because my husband and I both had crazy work schedules at the time, and weren't always as responsive as we should have been, but throughout the entire process he was patient, respectful, and genuinely excited for us. We asked for some obscure songs and had a few nontraditional aspects to our ceremony, but Scott was on top of it. Not only did he find everything we asked for, but he chose beautiful, complimentary choices for the times in between main events, and really seemed to understand my husband's and my style and aesthetic. We would definitely recommend Scott and would definitely choose him if we had to do it all over again. In all honesty, he was brilliant, professional, fun, and the best vendor we hired. He truly kept the timing of our wedding, and I am certain everything went as smoothly as it did because of him. Even our guests commented about what a great DJ & MC he was. Thank you, Scott!
Sent on 06/03/2017
Lions · married on 03/16/2016
I am the event coordinator for Lions Park in Carpinteria and booked Scott for our Open House. He was AMAZING. Showed up early to set up, extremely nice and professional, and knew exactly what mood I was looking to create and did an amazing job. He added gorgeous uplighting in our lodge as well! I can't recommend his services enough. He's awesome!
Sent on 03/19/2016
User5622634 · 2+ years ago
used him many times. all great
Sent on 11/17/2015
User4773146 · 2+ years ago
Scott was amazing! He provided for sound in 4 separate locations for our ceremony and reception without a hitch. He provided very easy guidelines to follow so that we provided enough music for each portion of the wedding. He also accommodated a last minute opera singer at our request. We couldn't have asked for anything more!
Sent on 07/09/2015
Jill · married on 02/15/2015
Scott, we can't thank you enough for providing such a fun atmosphere for our Villa Verano wedding. The music was perfect and everyone enjoyed the vibe of the entire evening. We appreciate your flexibility with planning the perfect musical setting without specific ideas. You have an amazing ability to know exactly what specific music fits the mood even though we provided little guidance. Our guests are still talking about how much fun they had at the wedding.
For anyone looking for an amazing DJ who will execute your vision perfectly and works seamlessly with all other vendors, we recommend Scott. He is professional but always kept the process fun and guided us every step of the way. Thank you for everything!
Sent on 06/20/2015
Catherine · married on 11/29/2014
Scott Topper was the DJ at our wedding at St. Barbara's Greek Orthodox Church. He was friendly and wonderful to work with from the early stages of planning up until the week of- Scott helped us figure out all of the details and the services that would best work for us. On the day of our wedding he was prompt and professional and ensured that our night went smoothly. His music was AWESOME and our guests are still talking about how much fun they had dancing! We were so happy we chose Scott for our event and would recommended him to anyone who wants a memorable reception!
Sent on 02/01/2015
Blair · married on 10/11/2014
DJ Scott Topper was AMAZING! As soon as I contacted him for our wedding he was so organized and made it so easy for me (bride). I really wanted our wedding to be perfect with the music and had a lot of specific requests and Scott Topper and his team went above and beyond. The music was PERFECT and they did an amazing job. I got so many compliments about our music after our wedding. THANK YOU so much Scott and your team!
Sent on 10/21/2014
Alexis · married on 09/27/2014
This review is long overdue, but I wanted to follow through and make sure this company gets the kudos it deserves. Our wedding was in September of 2014.
We got Scott's name from a very close family friend. He had been the DJ at their wedding and since we were looking for a DJ for our wedding, we were shopping around.
Scott was so helpful and was able to work with our budget. He constantly stayed in touch with me and was so understanding and patient with me when I was trying to work out the order of the wedding, cocktail hour, reception, etc.
Scott had another party that he was already DJ-ing on the day of our wedding, so he arranged for us to have DJ Katie. We were a little unsure about having a female as a DJ, as neither of us had ever attended an event with a female DJ. We saw a few videos of Katie at work and felt good about having her at our wedding. We were, however, pleasantly surprised at how well Katie handled it all. She was absolutely wonderful and EVERYONE enjoyed themselves immensely. She controlled the evening and made everything run so smoothly.
We were happy with all of it and we received so many compliments from our guests.
One aspect that really made the whole evening stand out from other weddings was having the party song before dinner was served. Have never been to a wedding that had dancing before dinner and it was awesome. Everyone was on the dance floor and it was so unexpected and enjoyed by all. Guests still tell me that was one of their favorite parts of the reception and I have to agree.
I learned many things while planning our wedding, but one thing I was taught was that you want to make sure you spend the money to get a great photographer and a great DJ. There are other areas where you can be more budget-conscious, but those two are the ones that you'll regret if you don't spend the money for outstanding quality. I wholeheartedly agree with this. Scott Topper Productions and DJ Katie were worth every penny.
Sent on 02/08/2016
Dusty · married on 09/13/2014
I just used Scott Topper Productions to DJ my wedding. We had the privilege of DJ Katie rocking the event all night. I heard phrases such as "your DJ was incredible, the dance floor was packed all night" from guests. My wedding was a dry event — usually a DJ's nightmare! Even so, the dance floor was going strong the whole evening and the music variety was exactly as I hoped it would be. Many thanks to DJ Scott Topper and Katie!
Sent on 10/07/2014
Bob · married on 06/21/2014
Scott was the DJ at our son's wedding last Saturday night. He was GREAT! Weddings are stressful events, a million details and never enough time. From the initial meetings through the last dance, he was professional, efficient, creative and fun. He controlled the event from the ceremony, through dinner and toasts, and into dancing. The highlight for me was his great transition from the mother/son dance to guests storming the dance floor, teenagers to seniors, jumping up and down to the music! A lot of bad dancing, but a tremendous amount of fun.
Sent on 06/24/2014
User4125518 · 2+ years ago
Scott was the Dj at my daughter's wedding. He was very organized, efficient and easy to work with. During the reception he kept the music going and the dance floor filled till the last minute. I highly recommend him!
Sent on 05/24/2014
Robby · married on 05/10/2014
Scott did such a phenomenal job, we don't even know where to start in explaining it! His fun loving, friendly personality shines through in every part of his work. Scott was incredibly detail-orientated and did a great job walking us through the timeline of our wedding reception. He gave us many suggestions and asked us questions to help him best serve our needs. Scott didn't just play music for us – he kept the entire reception on track with speeches, toasts, special dances, cake cutting, garter tossing and more. Scott was a phenomenal emcee and we couldn't be happier with the wonderful job he did. We highly recommend him as a deejay and emcee, and wouldn't go anywhere else when planning future events. Thank you, Scott!
– Nikki & Robby Barthelmess
Sent on 05/15/2014
Kerry Lee · married on 05/08/2014
I have worked with Scott Topper on many weddings and events, and most recently, a resort showcase for VIP media and guests and we needed the best of the best to MC and DJ. Scott consistently provides a quality product : his style, his equipment, his ability to read the crowd, guide the "energy" of the event and ensure everyone has a good time , are unparalleled. Further, Scott is always on time, responsible for his own equipment, and takes the time in advance to know the client, the venue at which he's working and does not put a burden upon his clients or fellow event professionals to figure things out for him with set up and striking (break-down). His upbeat personality is refreshing and he is flexible and loves life, which shows in his work.
Sent on 06/18/2014
MJ · married on 05/03/2014
We recently got married in May 2014 and we had Scott Topper as our MC & DJ. He did an amazing job!! We could not be happier with our choice in selecting Scott for our wedding. He was very happy and fun throughout our wedding and made sure that all of our guests were having a great time as well as keeping my husband and I updated on the timeline of events. We had an amazing experience and we would highly recommend him for any event!!
Sent on 05/16/2014
Jill · married on 10/19/2013
Scott Topper was fantastic from start to finish. He was very responsive whenever I rang, emailed or texted. This is HUGE when running a large event or high profile wedding. He was cheerfully cooperative when we made selective music changes pre-wedding. He knows his stuff! He was flexible and attentive, listened to what the bride and groom wanted said during the reception by being attentive to what THEY wanted. The dance party was awesome – paid for another hour on the spot. We were sad when it ended! He had us all dancing to the bitter-sweet end. Highly recommend.
Sent on 11/18/2013
Carri · married on 07/06/2013
Here is a Thank You email I sent Scott that will give you an idea of the services you will get when working with Scott Topper Productions:
Scott!
I was the Day Of Coordinator for the Palmquist/Kihlstrom wedding and I wanted you to know your people were FABULOUS! Really, really terrific!
David and Danny did an exceptional job of running the music and all the sound. David was so helpful when we were completely off schedule – thinking through the implications of choices and helping to determine what we could move where. Danny was always right there – good natured, warm, and professional. I was really impressed with the two of them, how they worked as a team, handled the playlist, interacted with the guests and celebrated the Bride and Groom. Bravo!
As for your two crew members at the Photo Booth – they worked their fannies off that night! I never saw them without a line (except at dinner) and from what I could tell by the folks going in and coming out, people were having a great time in the Photo Booth. I completely neglected them both yet they made great things happen. I looked through the photobooth pictures you sent out and they looked terrific. Your folks knew what they were doing, knew how to encourage people to get into the spirit of things, and apparently did an excellent job.
Please pass on mounds of appreciation and praise to your team. They were terrific and I would easily recommend Scott Topper Productions for future events.
Sincerely,
Carri
Sent on 07/10/2013
User3123204 · 2+ years ago
We just got married at Sunstone Winery in Solvang. It is not the easiest venue to have a DJ but Scott managed to set up all of his equipment without any problems. Scott's equipment is top of the line !!! The dance floor / his DJ table looked absolutely amazing !!! Very professional.
A challenge for Scott was that my husband and I are from different countries so Scott had to combine Croatian / Bosnian / American music. He did a great job mixing all the songs. He is great at feeling out the crowd and playing the songs that keep the party going. We were beyond happy Scott was our DJ /MC !!!
Sent on 03/10/2013
Elise · married on 12/29/2012
I was the wedding planner for this event and Scott was the consummate professional. He showed up on time, played upbeat fun music while sticking to the timeline throughout the night, he was friendly, seemed to be engaged with all of the guests and knew how to throw a great party! I will definitely recommend him to all my future brides!
Elise Quick
Elise Quick Events
Sent on 01/05/2013
Tracy · married on 10/12/2012
We recently got married and had Scott DJ at our wedding. He was excellent to work with and very professional. He really engaged our guests and had everyone dancing at our reception! We received so many compliments on the great music and fun atmosphere. Scott is the best, I highly recommend him!!
Sent on 10/18/2012
Charles · married on 07/21/2012
Santa Barbara DJ Scott Topper had great music and wonderful energy. Outstanding composure, well dressed, and a fantastic modulation in his speaking.
Many thanks for all his efforts to make Benjamin and Cynthia's Wedding Day wonderful.
Excellent ceremony audio on the grass as well as reception DJ music choices inside the Montecito Country Club."
Charles and Jennifer Kaska
Parents of the Groom
Montecito Country Club
7-21-2012
Sent on 07/26/2012
Randee · married on 06/10/2012
WE recently got married and had Scott DJ for us. He was amazing from start to finish. So friendly and also professional. He played the best music for our wedding. He really got to know us and what kind of feel we were looking to have at our wedding, and I think we danced the whole night. He was a joy to have at our wedding, I'd recommend him to anyone!!!
Sent on 06/26/2012
Sandra · married on 10/01/2011
October 1, 2011
That was the date of my daughter's wedding. I was the wedding coordinator, which I do not recommend…………..unless you hire Scott Topper Productions as your DJ. From start to finish he was excellent.
His knowledge and suggestions were flawless and his playlist fantastic. We had a small wedding, just 60 people and the dance floor was full the whole time. He knew exactly what the crowd wanted.
When Scott started playing the whole wedding was in his hands. He timed everything perfectly, the bouqoet toss, garter throw, toasts and cake cutting. You can't go wrong with Scott.
Sent on 10/06/2011
Cora · married on 03/26/2011
Scott Topper is amazing! He provided great music for our wedding and was also our Master of Ceremonies during the reception. Everyone loved him and he helped our day run smoothly. Can't recommend him enough!
Sent on 03/30/2011
Debbye · married on 11/13/2010
Scott took the time to meet with us and get to know us before our wedding. We had a full range of ages to please, from teenagers to my 90 year old mother. Everybody has commented on what a great time they had. He played all the songs we specifically requested while keeping everybody on the dance floor. We had a Black Tie affair and everything that Scott provided was excellent.
Sent on 11/23/2010
Barbara · married on 10/03/2010
Scott Topper Productions was amazing… they kept the party going from the moment we did the grand entrance to the final song of the night. Scott was professional, courtous, had great suggestions and I would book him again in a heartbeat.
Sent on 10/10/2010
Pete · married on 07/17/2010
Scott SAVED our wedding and we continue to get compliments about him from our guests… even two months after our wedding. Thank You!!!!
Sent on 09/23/2010
Keti · married on 04/21/2018
Best DJ ever! Scott and his assistant did an amazing job at our wedding at La Cumbre Country club in April. Great professional! Acceded our expectation. Guest loved the whole experience! Thank you Scott.
Scott Topper DJ Productions 1
Sent on 04/26/2018
Lili · married on 07/02/2016
Scott was the DJ for our wedding this July of 2016 in Ojai. He was absolutely fabulous. We actually ended up finding him at the very last minute—just weeks before the wedding—and he was quick to respond and flexible in making sure that the wedding would be exactly as we wanted it. The evening of the wedding not only did Scott arrive early to set up and make sure everything was organized and ready to go, but during the event he really stepped up. We didn't have a wedding coordinator, and so he made sure to check in consistently with our other vendors and family members to coordinate the whole evening and make sure that it ran as smoothly as possible—and we didn't have to worry about a thing! The music was perfect; our guests all had a blast and commented on how fun and nice Scott was. We would hire him again without ANY hesitation. He is a huge asset to any wedding! Thank you, Scott!
Sent on 08/09/2016
User3477024 · 2+ years ago
The quick version is Scott recently served as the DJ for our wedding in Santa Barbara. We could not be more pleased with how everything went and would recommend him without hesitation.
The longer version:
– Communication was excellent from start to finish. Scott responded to our initial query, and any and every other e-mail, in under 24 hours. Scott was friendly, courteous and professional in each and every e-mail he sent.
– Though Scott offers additional services (photo booth, light packages, etc.) there was never any pressure to add on anything we didn't want. Scott was very respectful of our wishes and needs, making it great to know the other services were available but never making us feel like lesser customers for not wanting to go for every add-on.
– The reservation and evening planning process could not have been easier. Forms and contracts are straightforward with nothing sneaky hidden in the fine print.
– It felt like Scott made a real attempt to get to know us, then offered really helpful ideas and suggestions for music and other elements of the evening about which we may have been uncertain.
– On the most base music level, Scott abided by our rather eclectic music preferences/cues and didn't complain once about any of the specific requests we made. Scott also completely respected our music tastes and "do not play" lists, all while doing a fantastic job of reading the event and offering a great music selection beyond our particular choices (though everything we requested was played).
– Sound quality was excellent during both the ceremony and reception. Not always an easy task at an outdoor event but Scott nailed it and clearly didn't cut any corners.
As stated above, our experience with Scott was top notch and we would recommend him to anyone looking for a quality DJ.
Sent on 03/24/2014
User3924341 · 2+ years ago
Scott was an amazing DJ for our wedding. He was very professional, but still got the party going. He kept to a strict list of do's and dont's for music we wanted. We even had friends who had gone to many weddings this year come up and say he was the best DJ they have seen. Also, in the planning process he called many times confirming things, offered to meet in person, and returned emails the same day or next. We definitely recommend him for his services.
Sent on 02/22/2014
Diana · married on 10/19/2012
Scott was the DJ for our wedding on October 19th. He was a pleasure to work with. He had lists of song suggestions and was able to get all the songs that we wanted that weren't on the list. He was easy to work with during the planning, I was able to contact him with questions and got quick, helpful responses. His energy with the crowd was great, while not overwhelming. He kept the party going smoothly even with timeline changes. Thank you so much Scott!
Sent on 10/30/2012
Brittany · married on 09/03/2011
Scott's fantastic!
He had plenty of experience, and even going off our lame and uber bare-bones reception timeline was able to pull off a flawless wedding reception. He's pricey, but man is he GOOD.
We gave him a list of songs and genres, and from there he filled in any gaps there might have been. He was fantastic at reading the crowd and playing stuff that everyone would like, from the little kids to my post-college party friends to my grandparents.
He also was a great MC, and was able to ferrett out any awkward transitional issues that might have been problematic.
LOVED HIM!
Sent on 09/20/2011
Tracey · married on 08/27/2011
Scott was great from planning to execution. He helped us plan not only the music, but the timeline of the reception including introductions, speeches, cake cutting, etc. He really knew how to get the crowd dancing. He has lots of personality, but isn't cheesy or over-the-top. We had a great time and lots of compliments from guests about how fun it was.
Sent on 10/27/2011
Joseph · married on 08/28/2010
We contracted with Scott to provide DJ services at our wedding at the Four Seasons in Santa Barbara. From our initial conversation to the end of the process, Scott was very responsive to our many questions and requests. He was particularly helpful in coming up with suggestions for us at the outset, when we weren't quite sure what we wanted. We liked that Scott offered suggestions, but also was open to whatever we had in mind for our event. Also, as we got closer to the event, we thought Scott was very flexible and patient, as we had several last-minute changes to the schedule. Scott also seemed to have a good sense for calibrating the music and the overall sound to the tenor of the room, which we appreciated. Overall, we were very pleased with the service we received.
Sent on 09/27/2010
Elaine
Elaine · married on 06/30/2018
We are so happy we went with Scott Topper for our DJ! He really went above and beyond to help the day run smoothly and provide all of our favorite music. Scott provided lots of helpful songlists and recommendations and was very responsive to our ideas and input. His professionalism really shone through in guiding the transitions between each event, balancing the music during speeches and dinner, and packing the dance floor for nearly three hours straight. No one wanted the party to end! Every song was a hit, and our guests had an absolute blast. Scott was so helpful, personal, and professional, and we would recommend him to anyone in the Santa Barbara/LA area.
Sent on 07/31/2018
Vanessa · married on 10/12/2013
We met with Scott about 10 months before our wedding and we immediately picked up on his extensive experience and professionalism. We instantly knew that his skill and knowledge would make the day of breeze by without a hitch. Our assumption was correct. Scott & his assistant keep the evening on schedule. Their friendly personalities and playlist (which we had previously discussed and agreed on) kept the party going.
Sent on 12/16/2013
User2590205 · 2+ years ago
Santa Barbara DJ Scott Topper had great music and wonderful energy.
Outstanding composure, well dressed, and a fantastic modulation in his
speaking.
Many thanks for all his efforts to make Benjamin and Cynthia's Wedding Day
wonderful.
Excellent ceremony audio on the grass as well as reception DJ music choices
inside the Montecito Country Club.
Sent on 08/09/2012
Dr. Marilyn · married on 04/12/2014
Scott was the DJ/host at my birthday party this April, where he tailored the music from cocktails through dancing. Had a range of people from my hip hop troupe to club members in their 90's and people just raved about what a great time they had. It was at the University Club and Scott also provided lighting throughout as well as a disco ball for the dancing. Responsive–he played "What does the fox say" for the grandchildren who had done a song and dance performance to it. He's a pro!!
Sent on 05/15/2014
Sara · married on 09/25/2010
Scott was professional, yet fun. I had been concerned that our group would not be big dancers. However, Scott got our crowd going on the dance floor, despite their predominantly older age.
Sent on 10/04/2010
Lauren · married on 11/12/2016
Scott was great to work with. We wanted a DJ who would play the music we wanted and nothing more and Scott understood our desires and executed them perfectly. We couldn't keep our guests off the dance floor and got several compliments about how great our DJ was.
Sent on 11/22/2016