Vintage Truck
Vintage DJ Party Event & Prop PhotoShoot Truck 1951 Ford Rentals Los Angeles, CA
VINTAGE DJ PARTY OUTDOOR EVENT TRUCK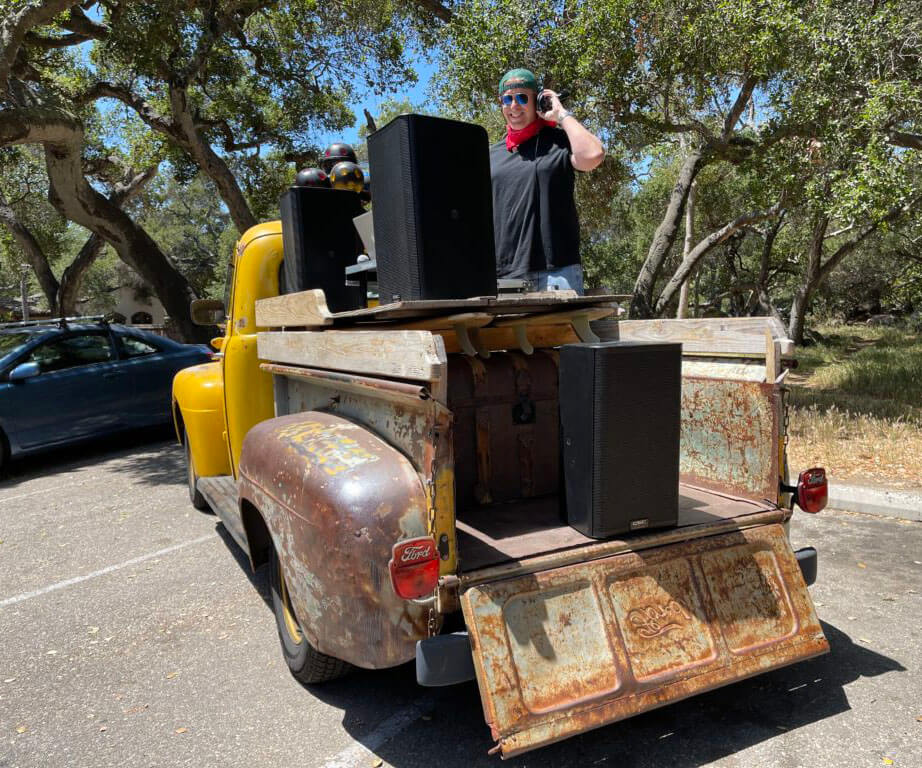 1951 F2 Ford Farm Pickup Rustic Movie, TV, Music Videos, Weddings, Events, and Photo Shoot Hollywood Prop and working DJ Booth Truck
What has two classic CA surfboards, awesome DJ dance music, always has people telling her that they love her, can drive 65 miles an hour on the highway, loves having her picture taken, a killer speaker sound system for events, disco moving lights, and knows how to rock the house?
Why it's old yella! Our 1951 F2 Ford mobile vintage DJ party truck. She's gassed up and ready to entertain at your next outdoor party or event!
We love to DJ on the back bed of this vintage truck! We provide farm truck photo prop rentals for Santa Barbara wine country weddings & events.
Having a vineyard or wine country farm barn wedding? Need an AWESOME way cool photo shoot prop in Santa Barbara County? We rent a classic old yellow patina 1951 F2 Ford farm truck. Very rustic and makes for amazing country wedding photos! You can also use the truck bed as a gift table to hold your wedding gifts or display your wedding cake, or have us DJ on the back or use it as a bar or as a photo booth.
We offer a unique one-of-a-kind very cool event mobile DJ vehicle that we drive to your event! Our mobile Classic DJ Party Truck is a part of Scott Topper DJ Productions. Our Professional DJs perform on the truck bed of this unique mobile event DJ party vehicle for all outdoor and indoor dj events.
About our Cool Classic DJ Booth
On the bed of our DJ truck you will see our vintage DJ Table base made up of a Late 19th Century Antique Metal and Wood Covered Round Top Travel Trunk. Placed on top of the retro travel trunk are two vintage California Surfboards and an old rustic wood barn door from the early 1900's being used as a DJ table top.
The mobile DJ Truck Bed is 6-1/2 feet long, 4 feet wide, and 1-1/2 feet deep.
Rent Our Dance Floors with DJ for Your Wedding & Events