Company Events and Holiday Parties
Corporate Dance Party DJs Serving Southern California and the Central Coast for Private Company Parties and Corporate Events
Corporate DJ Entertainment is our specialty! We are a Mobile Disc Jockey corporate party DJ entertainment service in Los Angeles County and Santa Barbara County for special events, company party, picnic, holiday parties, dinner, background music and dj dance music. We also provide fun Karaoke DJ Entertainment, Silent Disco DJ Entertainment, L.E.D Uplighting, Moving DJ Dancefloor Lighting, Dance Floor Rentals, and an Open Action Photo Booth for Corporate events in Santa Barbara and Los Angeles, CA.
Watch Los Angeles Destination Management Company favorite DJ Scott Topper fire up the Salsa Dancefloor Crowd BELOW!
We love music, and we love Los Angeles. There's no place like LA to bring in the corporate festivities and celebrate your special event with an experienced Los Angeles DMC DJ Entertainment company. From the ocean to Hollywood, Los Angeles is the ideal place for corporate dj entertainment.
We elevate the entire mood of your event, bring people together, and are the catalyst for an awesome blast.
Los Angeles Destination Management DJ's has over 20 years of experience in the entertainment and music industries. Owned and operated by 3X Emmy-nominated TV host Scott Topper, our professionalism and know-how are unparalleled when it comes to taking care of absolutely everything you'll need for your company music and emcee services.
We love getting to know our clients and hitting just the right beats at their parties. Whether you know exactly what kind of music you want to hear or just want us to do our thing, we'll be thrilled to liven up your event with the incomparable joy that only music can bring.
So let's get your party started. . . LA style. From Hollywood to Santa Monica we've got you covered!
Destination Management Company DJs Los Angeles Scott Topper Productions. We work with 360 DESTINATION GROUP, HEARD GLOBAL, PRA SANTA BARBARA, RELEVÉ UNLIMITED, and RMC.
Los Angeles DMC DJ Scott Topper ignites the 400 plus crowd by playing "La Vida Es Un Carnaval" performed by Cuban recording artist Celia Cruz.
Destination Management Company DJ Entertainment Los Angeles
We are FUN, entertaining, and a perfect choice for company parties, Halloween parties, Christmas, holiday parties, and Southern California Corporate Function DJ services.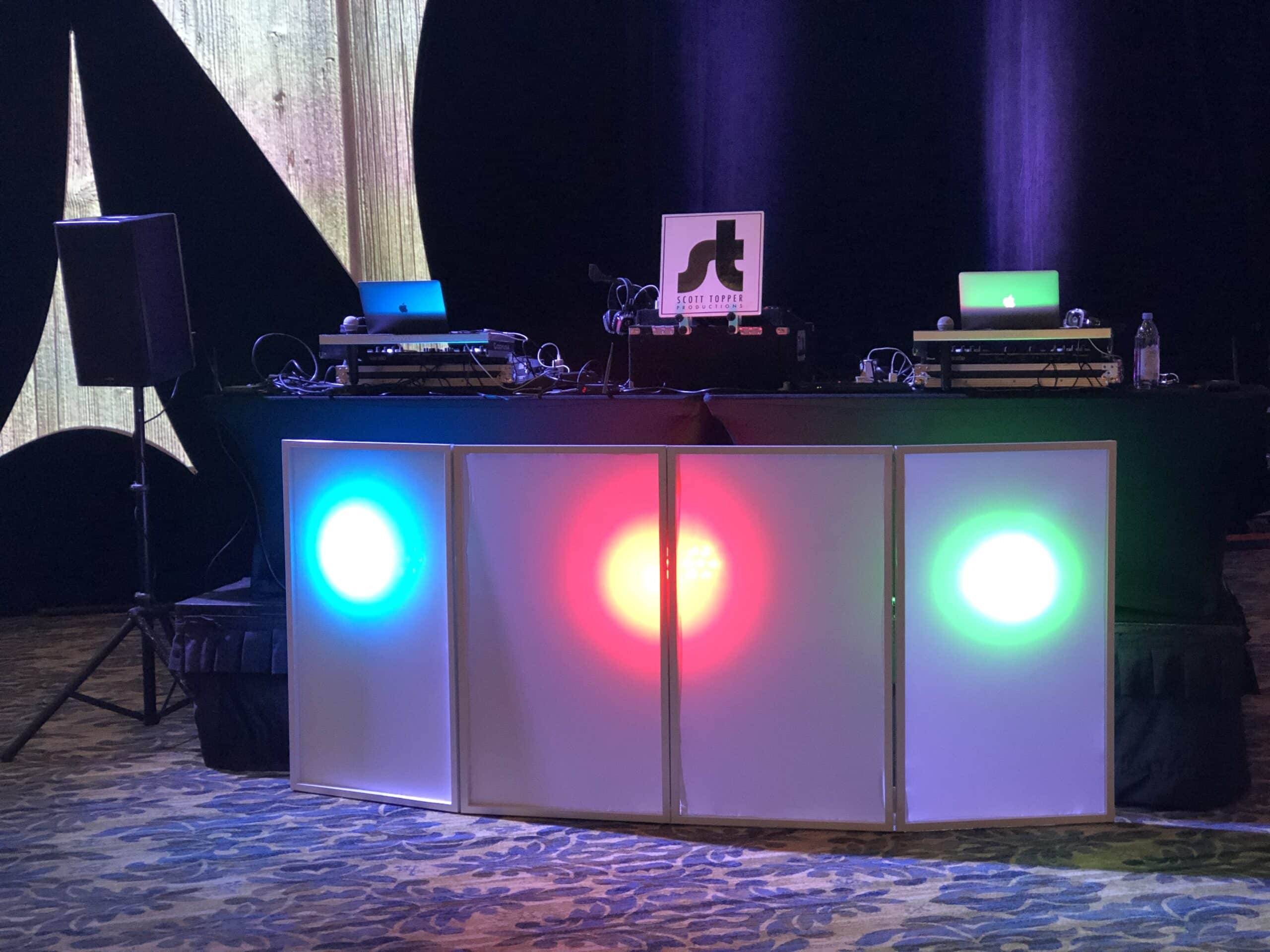 CALL US TODAY FOR PRICING AND AVAILABILITY TO GET YOUR PARTY STARTED!
We offer full services of music planning and coordination for Corporate Parties. We also have Moving DJ Dancefloor Lighting, L.E.D. up lighting, Action Photo Booth Rentals, Dance Floor Rentals, Karaoke, and after-party Silent Disco headphone parties.