DJ Entertainment in Camarillo, CA
We love DJ'ing at Spanish Hills Country Club
999 Crestview Ave, Camarillo, CA 93010
Discover the World of Spanish Hills Country Club. Spanish Hills Golf and Country Club is a Private Country Club located in Camarillo, California. World class golf course, 18-holes, grass driving range, tennis facility, fitness center, private dining, catering and much more all located in Ventura County. Perfect for Weddings, Bar/Bat Mitzvahs, Business Meetings, Corporate Events and Receptions.
Weddings and Special Events
CONTACT US TODAY FOR DJ PRICING!
Bar Mitzvahs and Bat Mitzvahs
Spanish Hills offers a perfect setting to hold Bar Mitzvahs and Bat Mitzvahs. With a capacity of up to 264 people with a dance floor and sit down service and a wide variety of menu choices for the younger guests, Spanish Hills will surely be a perfect setting to celebrate your child's special day. We have wonderful Bar and Bat Mitzvah packages and will happily customize to create a unique event, whatever your celebration theme. Larger groups may be accommodated with alternate set-up options.
Birthday Parties and Anniversaries
We love to help plan birthdays and anniversaries, especially when they are a "Surprise". We have several menus and packages to choose from with varied prices to fit your needs, from an intimate gathering to a grand affair. Whether inside the Grand Ballroom or outdoors on one of our Garden Terraces, Spanish Hills provides a beautiful backdrop to celebrate life's milestones.
Bridal and Baby Showers
There are two lovely outdoor garden terraces to choose from, as well as our indoor ballroom to choose from for your Bridal or Baby Shower. Amongst our varied menus we have special shower menus for buffets, sit-down lunches and dinners or just a simple afternoon "Tea".
Memorial Services
Planning and putting on a special memorial program can provide comfort as you honor the memory of your lost loved one. A commemoration creates a gathering of friends and family to celebrate a life lived and to mourn the loss. With many of the memorials held here, we have created custom menus to suit your needs, which take the stress away from you having to make more decisions than necessary during your time of grief. We are here to help plan a special service to ensure a memorable and meaningful event.
Check out our Amber L.E.D. Uplights: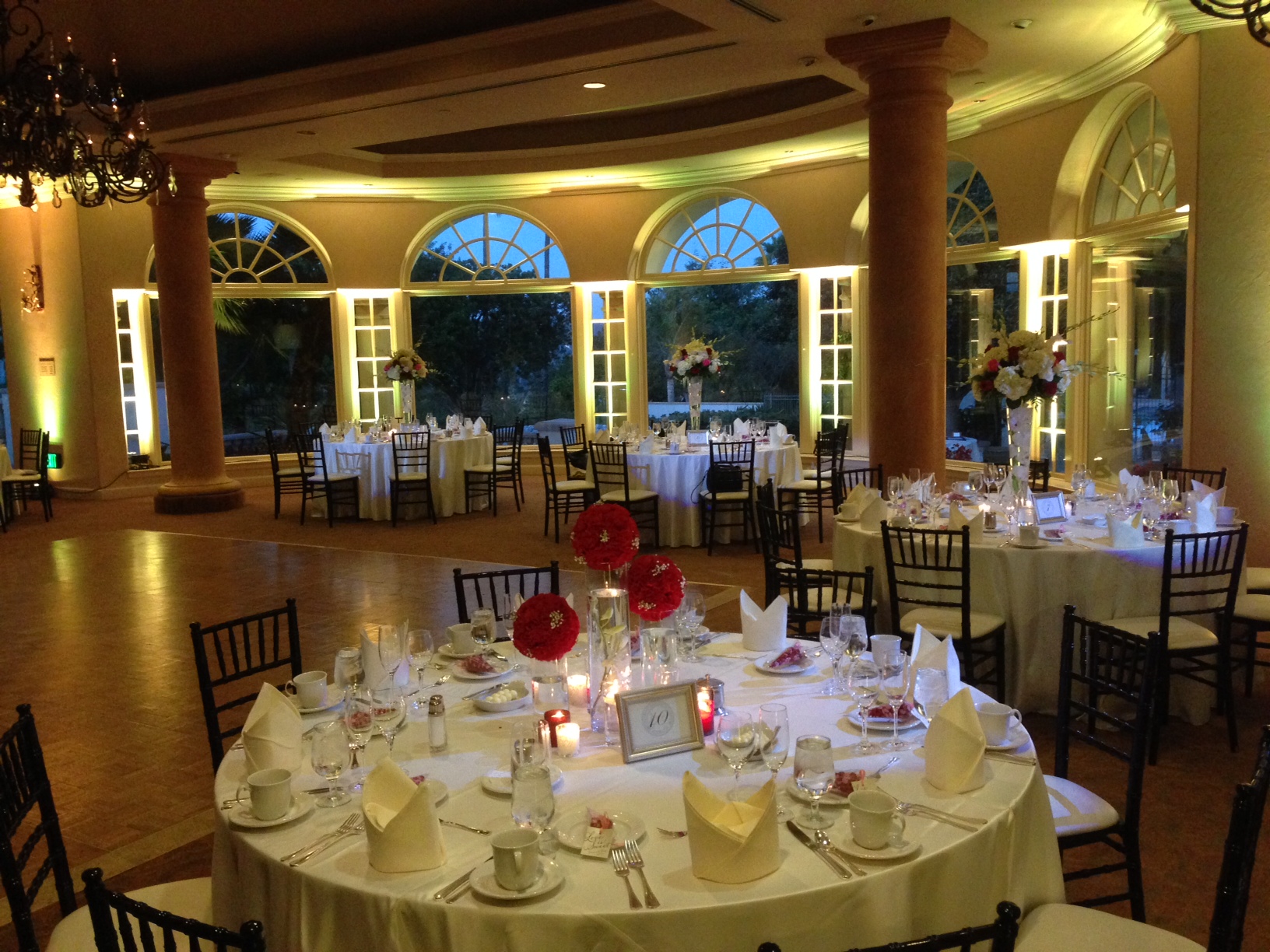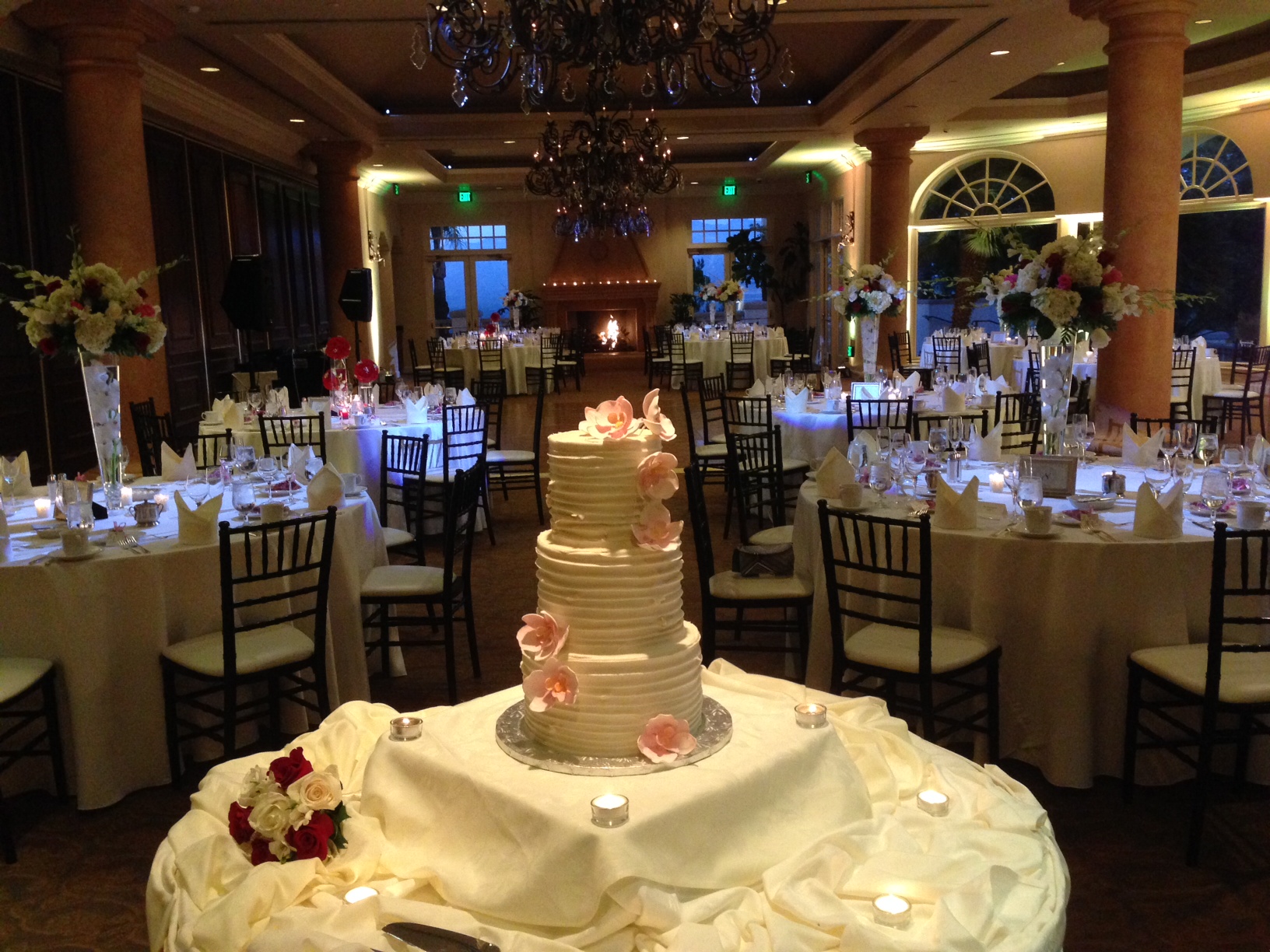 Wedding Ceremonies and Receptions
At Spanish Hills Country Club you will enjoy the friendly warmth and elegance of a gracious private club. We pride ourselves on our thoughtful attention to the details that make your special day truly memorable. Elegant touches like our unforgettable synchronized table service have earned Spanish Hills Country Club a reputation for sophistication, beauty and fun!
Your guests will enjoy another outdoor terrace overlooking the valleys and mountains of Santa Rosa for your cocktail reception. Your party will be brought inside our Clubhouse for dinner and dancing. Inside our Grand Dining Room you'll be delighted by luxurious Spanish Mediterranean design. The view out our floor-to-ceiling bay windows is of our breathtaking, immaculate grounds. The ballroom itself is appointed with crystal teardrop wrought iron chandeliers, two magnificent fireplaces, and a grand piano.
Spanish Hills has three different Wedding Packages to select from that help take the worry out of planning your big day. We are happy to customize packages and menus to create a one-of-a kind event for you. We coordinate your rehearsal and ceremony and create an event timeline so that you may be a guest at your own party. Our capacity is 264 guests for a sit down dinner with ample dance floor (larger groups may be accommodated with alternate set-up options). We begin booking Weddings over a year in advance and fill up quite quickly. Please give us a call if you are interested in a tour. Tours are available Tuesdays through Saturdays by appointment only. We look forward to hearing from you and helping you to plan your next special event!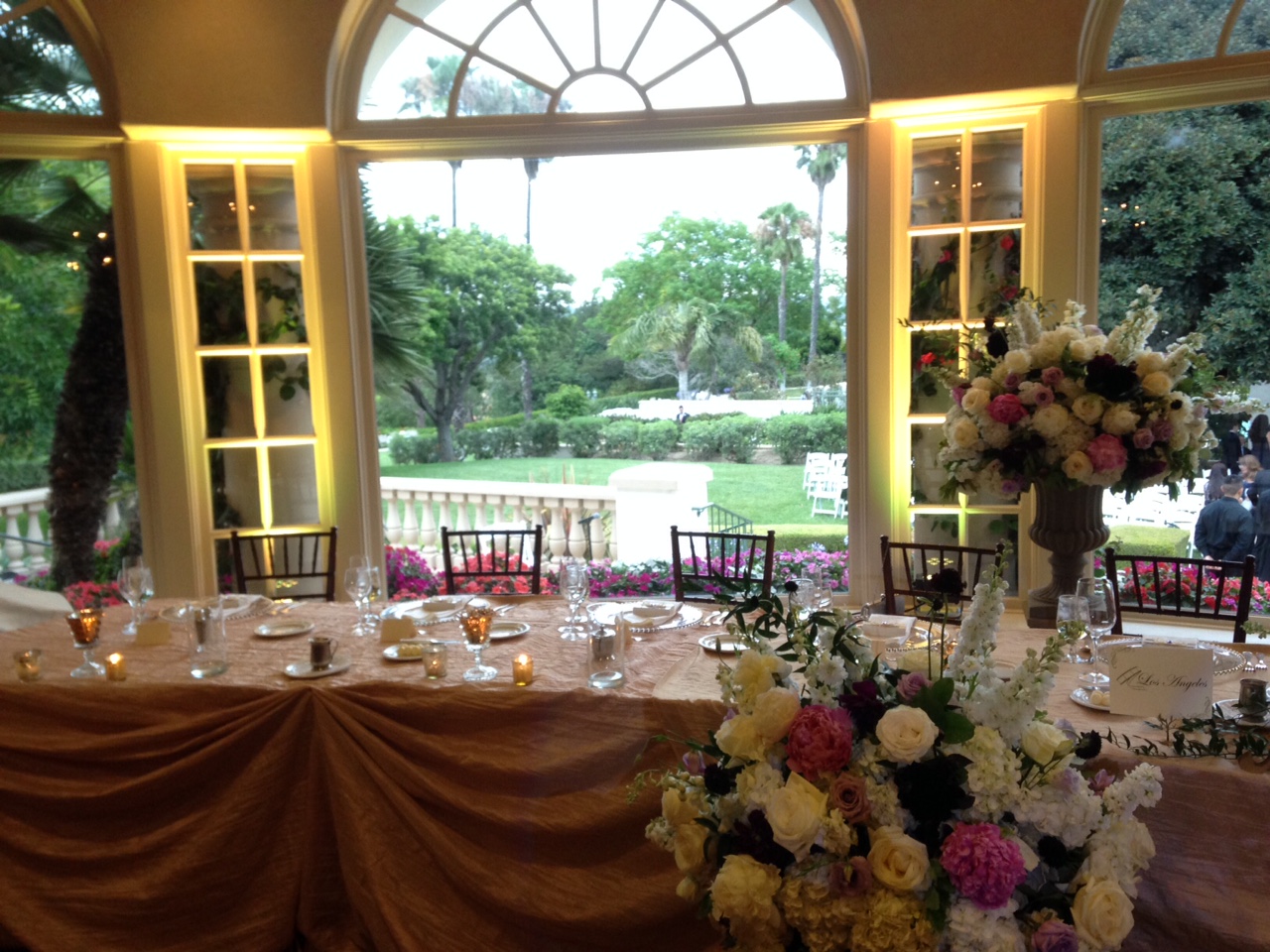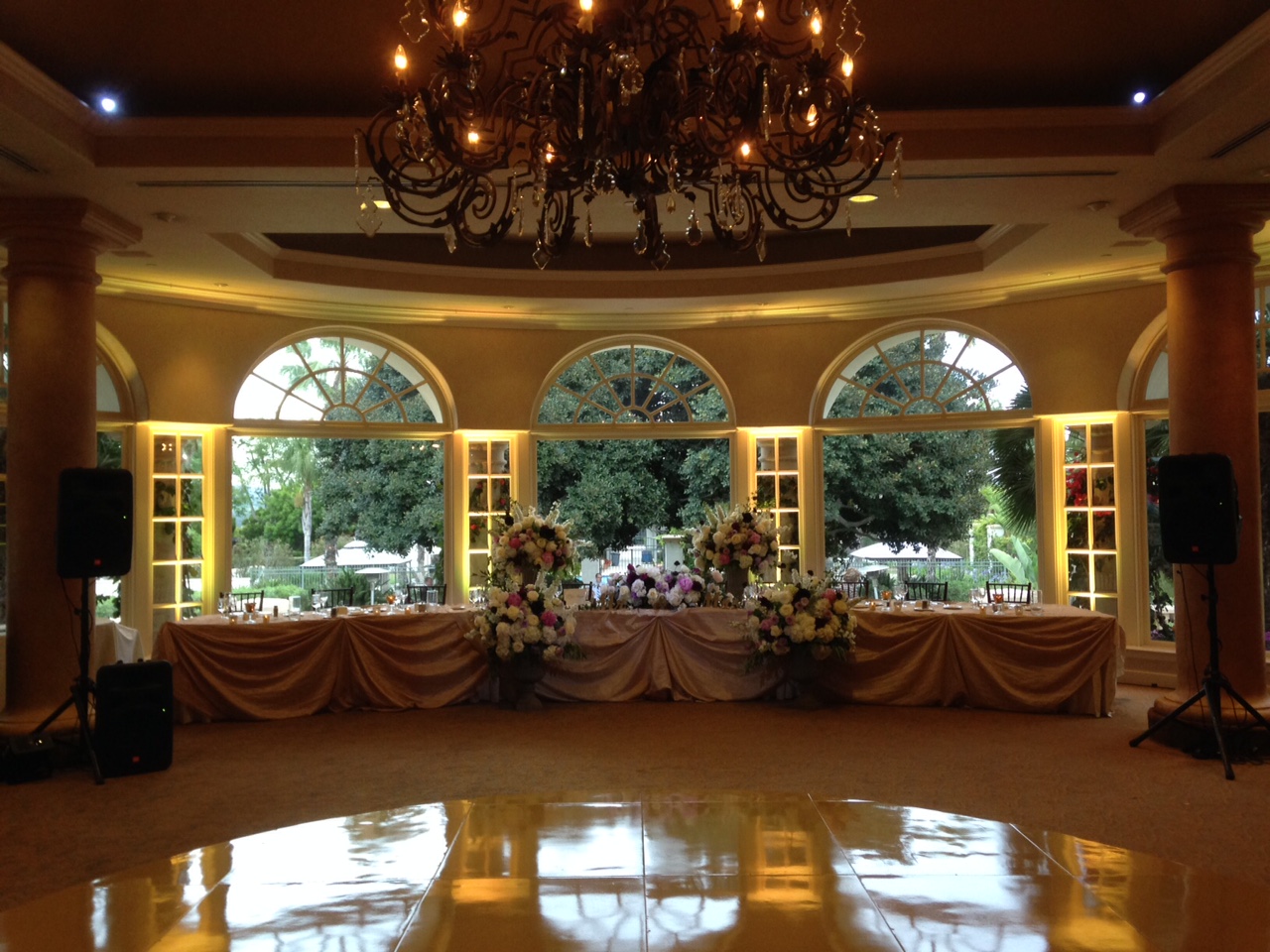 Virtually any Type of Seating Arrangement, from Classroom Style to "U" Shaped Meeting Tables can be Created
CONTACT US TODAY FOR DJ PRICING!
Our elegant Grand Dining Room can be separated into 3 Meeting Rooms (one large and two smaller, Private Dining Rooms) and used in conjunction or separately. The Private Dining Rooms are ideal for a conference meeting breakfast and/or luncheon or breakout rooms. When used as one large space the room can accommodate up to 312 at round tables and possibly more, depending on your set-up.
Spanish Hills Country Club can accommodate any event, including charity fundraisers, retirement parties, awards ceremonies, birthdays, bridal and baby showers, movie and commercial locations, as well as weddings, business luncheons and meetings, anniversaries, Bar and Bat Mitzvahs and memorial services.
Country Clubs in Ventura County, Spanish Hills Country Club, Spanish Hills, Golf Club, Golf Courses in Camarillo, Golf Courses in Ventura County, Golf Courses in Ventura, Golf Courses, Golf, Greens, country club, Ventura, CA, Ventura County, golf club, best course by golf digest, best course in Ventura County, Golfing in Ventura, Weddings, Members Only, Private, Dining in Ventura County, Outdoor Recreation in Ventura County, Pool, Gym, Banquets, Best Places to Play, Golf, Tennis, Wedding, Bar and Bat Mitzvahs, Ventura, Golfing, Southern California, Southern California Golf, So Cal golf, So Cal, Bar/Bat Mitzvah, Business events, Business meetings, Business seminars, CA, Camarillo, Catering, Country Club, Country Clubs in Camarillo, Country Clubs in Ventura County, Country Clubs in Ventura, Fitness Centers in Camarillo, Fitness Centers in Ventura County, Fitness Centers in Ventura, Fitness, Awesome, Beautiful, Views, Pacific Ocean, Driving Range, Practice Green, Putting Green, Oxnard, Camarillo, Somis, Los Posas, Saticoy, Saticoy Regional, River Ridge, Sterling Hills, Events, Wedding Planner, Private Clubs in Camarillo, Private Clubs in Ventura County, Private Clubs in Ventura, Private Clubs, Private Country Clubs in Camarillo, Private Country Clubs in Ventura County, Private Country Clubs in Ventura, Private Country Clubs, Putting, Reception, Tennis Club, Tennis Instruction, Tennis Pro Shop in Camarillo, Tennis Pro Shop in Ventura County, Tennis Pro Shop in Ventura, Tennis, Tournament, Ventura County wedding sites, Ventura County, Ventura, Wedding ceremonies, Wedding location, Wedding sites, Wedding