Classic Vintage Pickup Prop Truck For Rent 2023
RENT "OLD YELLA" 1951 F2 Farm Pickup Truck for Your Next Event!
Rental STARTS at $800 up to 2 hours, $200 each additional hour plus travel from Santa Barbara, CA.
Travel and transport included up to 30 mi from Santa Barbara, CA.
Contact Us for exact pricing and availability.
Ask about day rates.
Great for Event Photography, Old Yellow Truck, Promotions, Wedding Photography, 1951 Ford Truck, Vintage Inspired, Wedding Photography, Weddings, Movie Shoots, Photo Shoots, Music Videos, TV Shows, Social Media Photoshoots!
Old Yella is also wonderful for Christmas, Christmas Photo Cards, Christmas Sessions, Cool Yule, Family Photo Sessions, Family Photography, Holiday, Holiday Photo Cards, Holiday Photo Sessions, Holiday Sessions, Mini Session, Portrait Photography, yellow farm truck.
Old Truck Rental for Photo Shoots and Movies
Book our classic 1951 F2 Ford Farm truck for your next movie project, photo shoot, Wedding, or special event.
Contact us for details today and to make this Americana treasure a part of your next video, movie, or special event!
Our amazing vintage old truck is a terrific prop vehicle to provide that perfect backdrop for the the vibe you're wanting to create.
Hire the perfect Classic and Iconic Vintage Farm Pickup Truck Vehicle for Your Wedding Photo Shoot or Film Production.
CLICK HERE TO CHECK AVAILABILITY AND PRICING NOW!
Photoshoot Movie Rentals in Santa Barbara and Woodland Hills, CA
Add a vintage truck touch to your photoshoot!
Rent our 1951 F2 Ford Farm truck as seen in the 1970's hit TV show "Sanford and Son."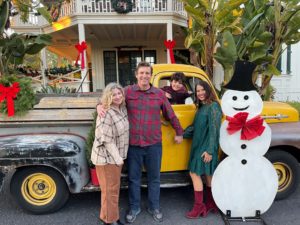 Our classic truck will guarantee great photo shoot authentic results!
Our fun classic yellow farm truck will enhance the desired feel of your photo shoot or video project.
Set up a truck bar, side stage, or as a stunning backdrop for photos.
Owned and driven by a Screen Actors Guild member, we understand the importance of an authentic classic vintage photo shoot movie prop farm truck.
When you rent one our vintage classic truck for a photoshoot or music video, we actually drive the truck and guarantee that it will arrive on time for your special event or photo shoot.
Classic Wedding Trucks, Vintage Farm Truck Vehicles