Santa Barbara Event DJs – Wedding DJ Services
Planning a Santa Barbara Wedding or Event in 2022?
Need a Santa Barbara DJ?
Watch our TV show, "Party Time with Scott Topper" on COX 17 TV on the Santa Barbara airwaves Wednesday nights at 11PM or Sunday afternoons at 1:30PM.
You can also CLICK HERE to Watch the TV show on YouTube.
A fun, lively, behind-the-scenes half-hour interview COX 17 TV talk show program hosted by 3X Emmy nominee Scott Topper that highlights people that make parties and events come alive! Each month DJ-MC, show host Scott Topper interviews three event professionals as the panel of experts share their fun stories and experiences working in the glamorous multi-million dollar Santa Barbara County special events industry. Topics include hot trends, amazing event locations, planning tips, DJ Scott Topper's Top-10 Most Requested Songs of the Month, & Santa Ynez wine country destinations. Special musical guest Mitch Karno of Moneluv performs "Name That Tune" with prizes by Sunstone Winery and Artiste Winery. Set Design by Kerry Lee Dickey, Lighting by Spark Creative Events. Hair and Makeup by Mira Bella Salon & Spa. Furniture Rentals by Ventura Rental Party Center. Photos by Angelina Toporov of La Femme Photography.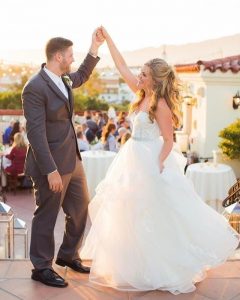 ABOUT THE PRODUCER: Founded in January 1999 by former MTV Reality TV show runner and 3-time Emmy nominated FOX Kids TV show host, Scott Topper, Scott Topper Productions specializes in the creation and production of comedic, edgy, and improvisational Live-Action reality television for both children and adults. The company is based in Studio City, California. Worldwide rights available for this thirty minute TV Talk Show series produced by Scott Topper Productions.
For further information, please contact:
SCOTT TOPPER PRODUCTIONS
818-640-6100
Email: scott(at)scotttopperproductions.com
Web: www.scotttopperproductions.com
Copyright 1999-2017 Scott Topper Productions.
All Rights Reserved.
TOP 10 Most Requested Wedding First Dance Songs
10. "Dream A Little Dream" (Mamas & the Papas)
9. "Could I Have This Dance?" (Anne Murray)
8. "Close To You" (The Carpenters)
7. "Chances Are" (Johnny Mathis)
6. "Can't Help Falling In Love" (Elvis Presley)
5. "Can You Feel the Love Tonight" (Elton John)
4. "Because You Loved Me" (Celine Dion)
3. "Come Rain or Come Shine" (Ray Charles)
2. "As Time Goes By" (from Casablanca)
1. "At Last" (Etta James)
SANTA BARBARA DJ Scott Topper's TOP 10 Most Requested Wedding First Dance Songs
Our DJ style is Classy, Upscale, with LOTS of FUN Dancing!
We will help you with the Wedding DJ music planning and timeline coordination so you can be stress-free on your Wedding Day!
We will provide you with both ceremony dj and reception DJ music and MC. We make sure your guests are dancing all night long as we are passionate about providing awesome and FUN Santa Barbara Wedding DJ entertainment!
Ready to book your Fall or 2022 Santa Barbara Wedding Ceremony DJ and Santa Barbara Reception DJ Music and Emcee? Click here to contact us now!
DJs – MCs – Lighting – Karaoke – PhotoBooths
Silent Disco – 1951 Ford Farm Prop Pickup Truck
We Provide the Best Wedding DJ Services in Santa Barbara!
DJ Music can really set the tone for your wedding day. That's why finding the right wedding DJ is such a big deal.