Monthly Mixer and Venue Tour at Antioch University
THIS Friday January 11, 2019 5:30-8:00 pm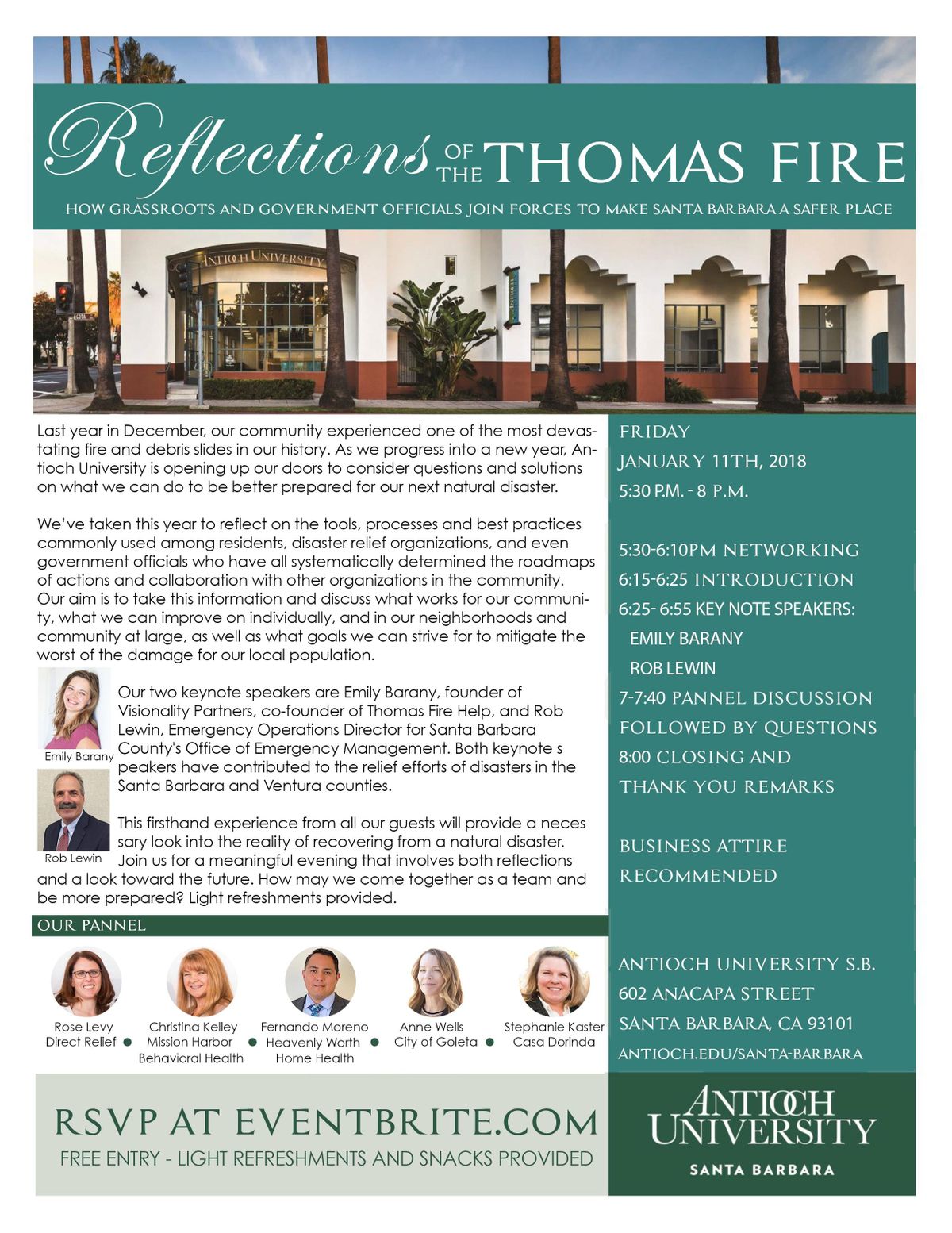 Antioch University
602 Anacapa Street
Santa Barbara, CA 93101
Antioch University Venue Tour and Lecture series:
One year later "Reflections of the Thomas Fire"
After the community keynote speakers, we will have our venue tour.
Free for all SBEP members.
Bring Event friends and your business cards!!!
Mix and mingle and with your fellow event professionals!
Reflections of the Thomas Fire
Last year in December, our community experienced one of the most devastating fire and debris slides in our history. As we progress into a new year, Antioch University is opening up our doors to consider questions and solutions on what we can do to be better prepared for our next natural disaster. We've taken this year to reflect on the tools, processes and best practices commonly used among residents, disaster relief organizations, and even government officials who have all systematically determined the roadmaps of actions and collaboration with other organizations in the community.
Our aim is to take this information and discuss what works for our community, what we can improve on individually, and in our neighborhoods and community at large, as well as what goals we can strive for to mitigate the worst of the damage for our local population.
Our two keynote speakers are Emily Barany, founder of Visionality Partners, co-founder of Thomas Fire Help, and Rob Lewin, Emergency Operations Director for Santa Barbara County's Office of Emergency Management. Both keynote s peakers have contributed to the relief efforts of disasters in the Santa Barbara and Ventura counties. This firsthand experience from all our guests will provide a neces sary look into the reality of recovering from a natural disaster.
Join us for a meaningful evening that involves both reflections and a look toward the future. How may we come together as a team and be more prepared? Light refreshments provided.
Friday January 11th, 2018- 5:30 P.M. – 8 P.M.
5:30-6:10pm networking
6:15-6:25 Introduction
6:25- 6:55 Key Note Speakers:
Emily Barany
RoB Lewin
7-7:40 pannel Discussion Followed by Questions
Rose Levy- Direct Relief
Christina Kelley- Mission Harbor Behavioral Health
Fernando Moreno- Heavenly Worth Home Health
Anne Wells- City of Goleta
Stephanie Kaster- Casa Dorinda
8:00 Closing And Thank You Remarks
Business Attire recommended