Benefits of Hiring a Professional Santa Barbara Wedding DJ Emcee
Planning a wedding can be one of the most stressful times a wedding couple will experience together.
We can help to reduce your stress during the wedding planning process.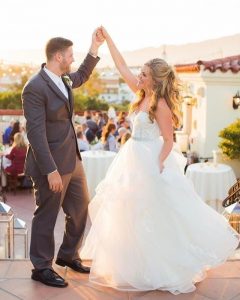 There are many decisions that you will need to make from choosing a venue to picking out a dress, and finding the perfect Santa Barbara Wedding DJ entertainment company such as Scott Topper DJ Productions.
We are Emcees as well as DJs and help you with all the music planning and timeline coordination to reduce your Wedding planning stress.
We are Classy, Upscale, and LOTS OF FUN Santa Barbara Wedding DJs!
1. We Will Help You Choose the Right Music for Your Santa Barbara Wedding Reception
2. We Will Set the Right Tone at Your Wedding Reception From Start to Finish
3. We Will Bring in the Necessary Equipment to DJ at Your Santa Barbara Wedding Fun Dance Party
4. We Will Take Requests From Your Guests at Your Santa Barbara Wedding Reception
5. We Will Plan to Assist You in Making Announcements During Your Santa Barbara Wedding Dance Party
6. We Will Read the Room at Your Santa Barbara Wedding Reception and Make Adjustments Accordingly
7. We Will Give Your Guests Permission to Get the Party Started at Your Fun Santa Barbara Wedding DJ Reception
Interested in Pricing and Availability for Hiring a Santa Barbara DJ for Your Wedding Reception?
We can provide you with an amazing Santa Barbara DJ for your wedding.
We would love to speak with you about DJ music party entertainment options at your earliest convenience.
Request a quote for a Santa Barbara DJ for your Wedding Reception by CLICKING THIS LINK NOW!
On the day of your wedding, expect our Santa Barbara DJ to arrive at least one hour before the start of the reception. During this time, we will set up, do a sound check, confer with the catering/banquet manager and photographer/ videographer and review the celebration's itinerary. By working and coordinating with these other professionals, your DJ can ensure your reception will run very smoothly.
A DJ's real talent is not only an extensive knowledge of music but the personality, emcee ability, coordinating skills and sense of mood and pacing we possess. A good DJ will vary the format of music to please the entire audience and be willing to take requests from the guests. During lunch or dinner, background music is played while the guests are socializing. Light jazz, standards and classical music work very well at this time. As time progresses and dancing begins, the volume level should be loud enough for dancing, but low enough to talk over. As an experienced DJ, we "read the crowd" and determine the proper pace of the event, alternating different music styles and tempos to please as many different age groups as possible.
As your DJ, we are also responsible for coordinating the various special announcements and events–special dances, cake cutting, toasts–that will occur throughout the wedding and make sure that the photographer and/or videographer are available to document each special moment.
The personality, convenience, savings, song selection and flexible sound system of our DJ skills add immeasurably to the energy and style of your wedding reception. Whether you're planning an elegant party with a traditional ambiance or a hip fete with a nightclub feel, the chameleon-like ability of a DJ to adapt to any style makes for a strong choice.