Fun Santa Barbara Dance Party Music Event Entertainment DJs
DJs for Special Events in Santa Barbara, CA
Santa Barbara DJ and Emcee Services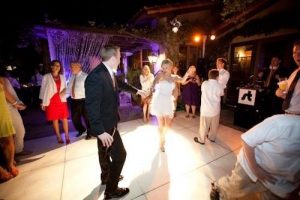 Scott Topper DJ Productions offers DJ Services for Birthday Celebrations, Weddings, Corporate Events, Non-Profits, and Parties: Our diverse music selections will pack the dance floor so you can relax and enjoy the party! We have DJ'd at every Santa Barbara wedding venue since 2003. We also have Santa Barbara Silent Disco, Santa Barbara Moving DJ Lighting, Santa Barbara uplighting, and a 1951 F2 Ford Farm DJ Mobile Pickup Truck for Weddings and Events and Parties!
Want more Santa Barbara DJ info? CLICK HERE FOR PRICING AND AVAILABILITY NOW!
We provide fun, non-stop dj entertainment for the following Santa Barbara DJ Events and Montecito, CA Parties:
-Corporate Santa Barbara DJs
-Santa Barbara Store Event DJs
-Wedding DJs in Santa Barbara
-Santa Barbara Christmas Party Event DJs
-Birthday Party DJs in Santa Barbara, CA
-Santa Barbara Marketing Stunt DJs
-Montecito House Party Event DJs
-Santa Barbara New Year's Eve Celebration DJs
-4th of July Santa Barbara Party DJs
-Santa Barbara Graduation Ball DJs
-Santa Barbara Non-Profit Fundraising Live Event DJs
-Santa Barbara Halloween Dance Party DJs
Who is Santa Barbara DJ Scott Topper?
Scott is an American on-air Radio Personality and TV Show Host/Producer.
Scott started his career on the East coast as a mobile DJ entertainer in the New Jersey/Philadelphia/New York area. His first radio gig was a three-year U.S. touring host of ABC Radio program's "American Top-40 On-Tour" with Shadoe Stevens.
Scott received three Emmy nominations for his FOX Kids TV Show "Topper's Clubhouse."
As a mobile DJ entertainer and emcee, Scott was featured on Ryan Seacrest's A&E Ballroom Dance competition reality TV show "Montecito." Scott regularly DJ's and MC's Special Events, Galas, Celebrity Parties, and Non-Profit Fundraisers in Santa Barbara, Santa Ynez, and Hollywood, CA. He is also a 2021 virtual corporate emcee and online event host for award shows, webinars, TV broadcasts, and live-streaming video productions.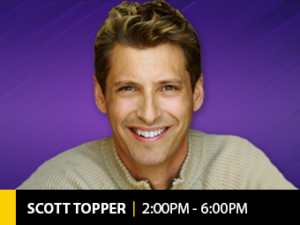 You can listen to Scott DJ'ing Monday through Saturdays from 2-6PM P.S.T. streaming LIVE at K-LITE 101.7FM playing 80's through today's Top-40 Dance Music by clicking HERE: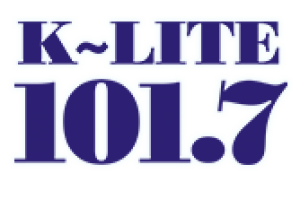 The biggest difference between the bar and private event Santa Barbara DJs is the experience. Bar DJs simply have to show up and play the music they know the crowd loves and they are not event Emcees. Private event DJs, however, are not simply hired to show up and play music. Usually, the client who hired a private event DJ has a very specific vision in mind and has offered plenty of guidelines, song ideas, a timeline, etc. and wants us to Emcee the event on our wireless microphone and through our professional speaker sound system.
Top 5 Santa Barbara DJ Party Planning Tips
1) Hire A Special Event DJ entertainment music company
2) Don't Forget: Your guests will do what you do! If the Bride & Groom (or Party Organizers) are on the dance floor having fun – that is where your guests will be!
3) Don't set your elderly guests right by the DJ's table or speakers. They will have a much more enjoyable time conversing with others at their table a little removed from the center of the action.
4) Don't over-analyze your timeline for the evening! Trying to plan the order of events down to the minute is likely to be an exercise in frustration! Work with your Santa Barbara DJ Entertainment Company to build a timeline of events and then on the day of your event – relax and let your Santa Barbara DJ facilitate your Event. We have years of experience, and will keep your night flowing seamlessly. To many details can "bog down" your evening and put your guests to sleep!
5) Place your Santa Barbara DJ near the Dance Floor – not in some "out of the way" corner! He will need to have a good view of the room, and the dance floor to keep your guests engaged and they will naturally look to him as the Emcee of the evening.
Want more Santa Barbara DJ info? CLICK HERE FOR PRICING AND AVAILABILITY NOW!
We are also proud members of VisitingSantaBarbara.com