Best Event DJ Santa Barbara
Best Of Santa Barbara® 2018 Ballot The Santa Barbara Independent
CLICK THIS LINK TO VOTE DJ SCOTT TOPPER BEST EVENT DJ
Best of Santa Barbara® 2018: Romance
Find The Most Romantic Places To Take A First Date, Get Married, Or Celebrate An Anniversary.
Santa Barbara Event DJS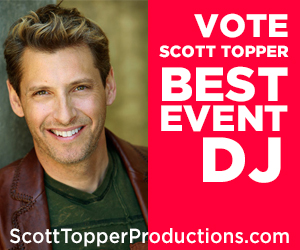 DJ SCOTT TOPPER BEST EVENT DJ
CLICK THIS LINK TO VOTE DJ SCOTT TOPPER BEST EVENT DJ
Hello Santa Barbara! Thank you for nominating in the Best Of Santa Barbara® 2018 Readers' Poll! We have created this final voting ballot based on the businesses who received the most nominations from our readers during the nomination period, which ran from June 7 to July 4 at independent.com. Voters will have until August 29 to cast their final vote.
A couple things to note:
• The ballot records your votes as you go – you don't need to hit "Submit" anywhere
• You can change your votes anytime up until August 29, 11:59pm
• Each voter must vote in 20 categories for their ballot to count
• No single business can receive more than two votes on one single ballot – if they do, only the votes in the first two categories will count
• If you don't see a nominee that you would like to vote for, use the write-in option at the bottom of the category to vote for whomever you'd like
• Make sure you are not using an ad blocker, as that will affect the way the ballot will display
• Businesses may not provide any financial assistance or incentives to Best Of Voters
Once the voting period is over, we will tally up the winners and publish them in our annual Best of Santa Barbara® issue, which hits stands Thursday, October 18. That same day, we will also be hosting our 3rd Annual Best Fest, where all of the winners and runners-up are invited to showcase their award-winning food, drinks, and services. Look out for early-bird tickets swimming your way soon!
Please note that all nominations and voting will be done exclusively online. There will be no paper ballots. We will have a voting station located at Indy HQ (12 E. Figueroa St.) for those voters who do not have computer or internet access.
CLICK THIS LINK TO VOTE DJ SCOTT TOPPER BEST EVENT DJ