DJs in Santa Barbara, CA – Santa Barbara Wedding DJs
Wedding DJ or Event DJ – Wedding and Event Services
We are Fun DJ Dance Party Music Event Wedding Entertainment!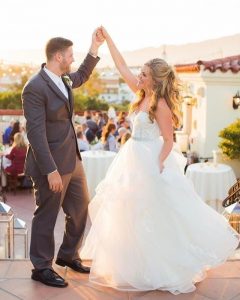 Explore the most highly-rated Santa Barbara Wedding djs perfect for your wedding dj entertainment music budget.
CLICK HERE FOR PRICING AND AVAILABILITY NOW!
We are polite, professional, detailed, & punctual. Get a free estimate. Upfront pricing. Hire Our Services to Liven up Your Wedding. Professional Wedding Services at Prices You Can Afford. Find Us in Santa Barbara, CA.
BENEFITS OF HIRING A PROFESSIONAL WEDDING DJ AND EMCEE
-Extensive collection of music
-Less Stress
-Equipment Experience
-Visual Experience
-Interaction with guests
-Personal Consultation
-Non-stop entertainment
-Extensive collection of music
When it comes to the wedding ceremony, one of the essential things is planning for the Santa Barbara Wedding DJ entertainment. This is very essential that not to ignore the effects of music on your wedding reception. In order to create a good atmosphere and desired tone for your great day the right music is very essential. An experienced and professional wedding DJ provides you with various advantages such as authentic versions of tracks, a diverse selection, much lower cost than a live band and also better volume control. For your wedding event wedding DJ entertainment will offer the following advantages:
Musical variety
The DJ can offer you with an array of playlist and provides greater musical diversity. They can able to give an amazing time to your guests just by playing tracks which appeals to your entire guest; Regardless of favorite genre and generation. Scott Topper Wedding DJ Productions has the best Wedding DJs in Santa Barbara, CA with a fun and outgoing personality to get your guests up on the dance floor.
Special announcements
We also act as an accomplished master of wedding ceremonies. During the wedding reception we Emcee activities and make the special announcements. This is also one of the main reasons why so many wedding planners opt for wedding DJs. As an experienced DJ, without creating awkwardness he can stop or pause the music during your wedding reception. The live band is limited to songs, so you hire the wedding DJ to get the song what you want.
Wedding DJ Entertainment
We offer you plenty of legal songs to choose from. The professional and experienced DJ can play music for all the age groups at your wedding even playing slower and softer songs during dinner. They also help with you to setting of the dance floor. The professional wedding DJ can handle all sorts of technical issues, related to the music system such as balancing the sound, adjusting the volumes and also placing the speakers.
The experienced DJ can able to read the mood of your guest and read the dance floors, instantly responds with music beats to entertain all of them. In order to keep your dance floor moving, they can offer the floor filling hits. All these features make our Santa Barbara Wedding DJ services perfect to guarantee a grand celebration on your wedding day. We can also play special classic hits on request. It is very important to consider some specific things while hiring the wedding DJ.
CLICK HERE FOR PRICING AND AVAILABILITY NOW!