Fun Improv Online Class to Connect with Your Remote Work Team
Want to book some fun Activities for Team Building at Work?
Virtual Improv Comedy Fun and Games with TV-Host Scott Topper
Great for Team Building
Join Easily from Home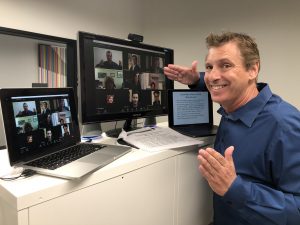 CLICK HERE TO WATCH THE FUN VIDEO AND LEARN MORE!
Online Improv Experiences | Live, Interactive Improv Class
Online Improv Experiences are Hosted by Experts and are Live and Interactive. Book Online. Book Live, Online Improv Classes, Taught by an Expert Improv Comedy Host! Verified Reviews. Join Easily. Connect with an Expert Improv Host.
Looking for Fun Activities for Team Building?
Learn the Fundamentals of Improv! Hosted by Improv Expert Scott Topper
Experience Improvisation In One Hour
We will accommodate a time that will work with your team and guide your group to share and come together through a series of interactive improv activities.
Learn and laugh with fundamental principles of improvisation. This is a great virtual bonding shared learning experience.
Virtual Team Building Activities such as this improv online experience are terrific for remote teams around the world who want to have FUN!
Building Team Games can be very rewarding with Improv Comedy Online Experiences. Improv in the workplace and Improv Comedy can help to reduce stress. The best online game for team building is improv comedy. Workplace comedy is key to employee happiness.
Building Virtual Teams with an Improv Comedy Show is a great way to bring your remote team together.
Our one hour session includes lots of fun Exercises for Team Building including Yes, and.
Fun Activities at Workplace can include virtual improv team building. Workplace Teambuilding will boost morale and allow remote employees to smile, laught, and feel connected.
Improvisation is a workplace skill that must be practiced over time. Scott's one hour virtual improv session has been voted as one of the Best Remote Team Building Activities. Improv Online is NOT Stand-Up Comedy but yet it is a wonderful team building activity. Be sure to hire Scott for your upcoming online workplace Team Building Improv session!
CLICK HERE TO FIND OUT MORE NOW!
Basic Improv introduces students to the fundamentals of improvisation through the use of games and exercises in a fun, fast-paced environment.
Our online improv classes are a fun and affordable way to learn a skill, connect with your remote team, and have fun. All from the comfort of your house.
Schedule your next team event with co-workers today! Your team will share an amazing and fun improv comedy experience and your group won't stop talking and laughing about the fun time they had with this experience.
We highly recommend this experience for all corporate teams interested in learning a new skill and bringing remote teams together to connect and have fun.
This is a fun, light-hearted teambuilding improv work experience where you will share lots of laughs while learning and trying out the basics of improv with an experienced and professional host and instructor. Scott's virtual improv class will help your team to get out of their comfort zone and learn a new skill so they can stay in the moment and think fast on their feet.