Ten Benefits of Hiring a Professional Santa Barbara Wedding DJ

We will help you to plan and create a memorable and FUN Wedding DJ Music Experience!
We are youthful, energetic, accessible and FUN!
Advantages of Hiring Professional Wedding DJs
10. Worry Free Music Planning and Coordination in advance of your Wedding Day with an Experienced Wedding DJ Professional = No Stress for YOU
Sit back, relax and enjoy the party!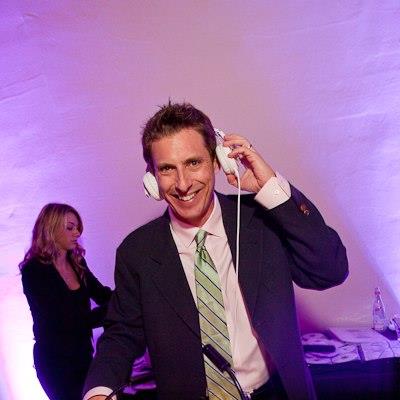 DJ Scott Topper of Scott Topper DJ Productions
9. Professional DJ Audio Equipment to rock the reception dance floor
Cutting edge dj gear and audio speakers and microphones for wedding ceremonies, wedding cocktails and wedding receptions.
8. Interactive Emcees to get the party started
We announce the grand entrance, first dance, toasts, father-daughter dance, mother-son dance, bouquet, garter and cake cutting. We can even facilitate the money dance!
7. Wedding Lighting Visual Experience
We offer moving dancefloor dj lights, LED uplights, and market string lights.
Good lighting design can transform the entire look and feel of your event. Lighting is a quintessential component of a stellar event, helping to set the mood and generate an entire "atmosphere." Lighting adds depth and enhances the spatial beauty of the space. With over a decade of event lighting experience, we offer customized lighting packages including special effects lighting and L.E.D. uplighting.

6. No DJ Breaks- Non-stop Music All night long
Unlike a band, we do not take 30 minute music breaks. We play a wide variety of continuous music. All styles of music and all genres from 1940′s to today's top hits.
5. Songs that sound terrific
Unlike a band, the songs you hear at your Wedding will be the songs you know and have heard on the radio or Spotify and are the songs you want for your Wedding day.
CLICK HERE FOR DJ PRICING AND DJ AVAILABILITY TODAY!

4. No gaps between songs
Unlike a band, you don't have to wait for the next song to start. We mix each song live.
3. We play your favorite song requests and help you with the timeline
We send you lists of songs and a suggested music timeline in advance of your wedding to help you to select your favorite dance floor grooves.

2. We interact with YOU and all your guests and we offer a FUN Action Photo Booth
We know how to handle song requests and can read a room by selecting the right songs that get people on the dance floor.
1. We are Emcees as well as DJ Entertainers
We give you peace of mind so your Uncle Bill or Aunt Mary don't take over the microphone and say awkward things
about you when you were 5 years old! We help facilitate the timeline announcements to keep your reception on track.
CLICK HERE FOR DJ PRICING AND DJ AVAILABILITY TODAY!