Virtual Emcee Host for Online Corporate Events
Virtual Event Online Host Emcee Speaker Scott Topper
Virtual Emcee (MC) and Online Event Host
Online Corporate Emcee (MC) Live & Virtual Event Host
Scott provides Virtual Event Emcees for Virtual Programs. Instead of a sense of relief at getting back to work and life there seems to be a sort of lull in the air. Lockdown is not over. The pandemic is here. For many people, work has taken on a completely new shape and form. Scott Topper is a Virtual Emcee and will help you to Create A Memorable Online Conference.
WATCH SCOTT HOST THE VIRTUAL AWARDS SHOW HERE: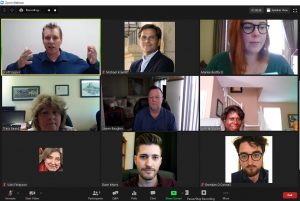 Virtual Emcee Scott Topper: How a virtual emcee Can Make Or Break Your Virtual Event:
Now that virtual events are the talk of the town, it's time to consider a virtual emcee. Especially because one of the biggest concerns with virtual events is audience engagement. So considering a virtual emcee is definitely something you want to do. Not only will one keep your event interesting, but it will also make your audience happier and eager for more. But where to start? And why should you really consider hiring one? What are the tangible benefits brought to the table?
Choosing the right Virtual event meeting host for an event is no longer simply about who can inspire the attendees in the room. In the era of live-streaming, an emcee must connect with thousands of unseen faces behind laptops and smartphones, too.
Engaging The Audience with Scott Topper: A Virtual Emcee Perspective
Audience engagement is so crucial for virtual conferences otherwise people will click out. We're still in the early days of virtual conferences, there's going to be lots of conferences, which means that you have to engage your audience in a really, really important way.
The importance of a professional virtual emcee
We don't get a second chance to make a first impression when it comes to hybrid events. And we must remember that hybrid events are events, and that events must cater to their audience. But there are two audiences at a hybrid event: the audience in front of you and the one at the computer, tablet or smartphone. If your virtual audience doesn't feel welcomed, appreciated and involved, it will walk away and rarely return.


A virtual emcee host must keep the virtual audience at the top of their minds during hybrid events.
What does a Virtual emcee host provide for your virtual event?
Provides a platform tour for your virtual audience, so it knows where to go, what to do and how to participate.
Ensures that your virtual audience's voice gets heard and questions get answered. Does this by never leaving their side and by attending to their every need.
Provides dedicated content for your virtual audience that lets them have a unique experience. Don't forget to design breaks within the agenda so they can attend to personal needs.
Allows you be yourself and be conversational. Be organized and stay on-point with messaging, but don't be scripted.
Is a conduit for your virtual audience and enables them to get the most out of the experience through constant information, explanation, moderation, conversation and reiteration.
Scott Topper is a Virtual Corporate Emcee, Online Male Event Emcee, Virtual Emcee, Online Conference Emcee, Virtual Corporate Event Host, Virtual Awards Host, Virtual Host, Online Corporate MC, and a Virtual Event MC.