Santa Barbara Weddings
Wedding DJs & Wedding Reception DJ
Santa Barbara Wedding DJs
Best Wedding Dj in Santa Barbara, CA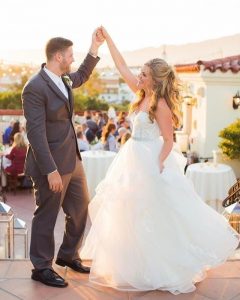 Music can really set the tone for your wedding day. That's why finding the right Santa Barbara wedding DJ is such a big deal. You'll want to find a wedding DJ who has great musical taste and can fill up your dance floor! The best way to find a great wedding DJ is to read our reviews from past clients!
Reviewed On 12/14/2019 by Donya B
Scott's personality is amazing and the best DJ we could of asked for!!
Reviewed On 11/30/2017 by Ashley T
This was a wonderful DJ service! very professional! great music and very captivating! I would recommend Scott Topper to anyone who's looking for a DJ for their wedding! Thanks for giving us a magical day!!
Reviewed On 9/06/2017 by Paisha S
Scott did a great job running the reception and moving things along. I didn't have to worry about what was next or fitting everything in because he took care of all of the timing! His personality was fun and got everyone out on the dance floor without being over the top or show boaty like hosts can sometimes be. All in all he was great!
Reviewed On 7/11/2017 by Katie A
Scott did the most amazing job as the DJ at our wedding! For us, having a killer dance party was our number one priority for our reception, and Scott did not disappoint! The dance floor was packed the entire night, with guests of all ages. We had guests telling us that the songs were so consistently great, they didn't even want to leave the dance floor to go to the bathroom! Scott also did a great job as our MC, helping us effortlessly stay on our timeline, and adding fun and excitement to the night with his charismatic personality. Hiring Scott as our DJ was one of the best decisions we made in all of our wedding planning, and we would whole-heartedly recommend him to anyone looking to throw a great party!
Reviewed On 6/13/2017 by Kari L
Almost 3 months later and we are still talking about how our wedding rocked!! From the ceremony to the cocktail hour to the reception. Scott Topper knocked it out of the park! He was professional, organized, super friendly, easy to work with (up to and including the day of our wedding), and arrived early to make sure everything was set up correctly. Scott has excellent communication skills as he took the time to work on our time line with us as well as went over our music list with us to make sure we had all the music we wanted. During the reception, he got the crowd dancing beginning with the Horah and kept the dance party going with excellent music and his vibrant personality and energy the entire evening! The conga line was awesome! Our guests had a fantastic time and RAVED to us about Scott! We know our wedding would not have been as fun if we didn't hire Scott! HE ROCKS! #BESTDJEVER! My husband, Eric and I HIGHLY recommend Scott Topper Productions for your next party, wedding, bar mitzvah, you name it….you won't be sorry!! TRUST US!
Music Genres:
Classical, Country, Dance, Disco, Folk, Hip-Hop, Jazz, Klezmer, Latin, Mariachi, Persian, Polka, Pop, R&B, Rock, World Music
Music Services, MC Services, Recorded Music, Sound Equipment, Wedding Activities, Rehearsals & Parties, After Party, Wedding, Ceremony, Reception
wedding djs near me, best wedding djs near me, affordable wedding djs near me, how to find a wedding dj, unique wedding djs, wedding dj services, wedding dj near me price, wedding dj services near me
Wedding DJs tend to be less expensive than live bands. This means some of the money you allocated for music can be used in another area. DJs also tend to have more musical options and take up less space.
Listen to Wedding DJ Scott Topper Mondays thru Saturdays from 2-6PM on K-LITE 101.7 FM!
The Best Father-Daughter Dance Songs of All Time
Slow Father-Daughter Dance Songs
"A Song for My Daughter" by Ray Allaire
"Always Be Your Baby" by Natalie Grant
"Daddy" by Beyoncé
"Daddy's Little Girl" by Michael Bublé
"Daughters" by John Mayer
"Dream" by Priscilla Ahn
"Forever" by The Beach Boys
"God Only Knows" by The Beach Boys
"Lullaby" by Billy Joel
"One in a Million" by Larry Graham
"She's Leaving Home" by The Beatles
"To Sir With Love" by Lulu
"Unforgettable" by Nat King Cole and Natalie Cole
"Wind Beneath My Wings" by Bette Midler
"What a Wonderful World" by Louis Armstrong
"It Had to Be You" by Ray Charles
"You Are So Beautiful" by Joe Crocker
"Your Song" by Elton John
"Gracie" by Ben Folds
"You'll Be in My Heart" by Phil Collins
"You've Got a Friend" by James Taylor
"Daughter" by Loudon Wainwright III
"Landslide" by Fleetwood Mac
Upbeat Father-Daughter Dance Songs
"Father and Daughter" by Paul Simon
"My Girl" by The Temptations
"She's a Rainbow" by The Rolling Stones
"Wildflowers" by Tom Petty
"How Sweet It Is" by James Taylor
"Come Fly With Me" by Frank Sinatra
"The Way You Look Tonight" by Frank Sinatra
"Sweet Child O' Mine" by Guns N' Roses
"Sweet Pea" by Amos Lee
"Brown Eyed Girl" by Van Morrison
Country Father-Daughter Dance Songs
"Don't Blink" by Kenny Chesney
"Daddy Dance With Me" by Krystal Keith
"Daddy's Hands" by Holly Dunn
"God Gave Me You" by Blake Shelton
"I Loved Her First" by Heartland
"It Won't Be Like This for Long" by Darius Rucker
"My Little Girl" by Tim McGraw
"Stealing Cinderella" by Chuck Wicks
"Today I Give My Daughter Away" by Dale Watson & His Lone Stars
"Wide Open Spaces" by the Dixie Chicks
"You Are My Sunshine" by Johnny Cash
"I'll Be There" by Josh Turner
"Just Fishin'" by Trace Adkins
"I'll Be Your Man" by Zac Brown Band
"Daddy's Little Girl" by The Shires