Interactive Online Improv Comedy Company Party
Feeling Stressed-out? Need a laugh?
Get ready for the ultimate most fun one-hour Improv Fun & Games laughing comedic corporate Party!
Want to book a private group of up to 10 participants to play and have fun?
Your company or business can book the entire improv comedy Fun & Games online experience hosted by Improv Guru Scott Topper just for your group.
Our group rate for one hour is $310 for up to 10 participants. Click HERE to book your private group today!
Improv Fun and Games with Scott Topper from HypeCats Video & Ameravant on Vimeo.
Scott's Online experience is hosted on Zoom, a cloud platform for video conferencing. This experience is hosted in English.
You'll need an internet connection and the ability to stream audio and video to participate. A link and details on how to join will be included in your booking confirmation email. Guests ages 18 and up can attend. Guests should enjoy laughing and smiling while learning fun improv tricks and tips!
Planning an Improv online Company Party or an Improv online event for Employees? Get ready to laugh with your co-workers during Scott's team Building Improv Class.
This is a Corporate Event Planner #1 referral for an online improv comedy experience.
It's an interactive virtual improv comedy party that guests will talk about for weeks after their experience. Scott's class is also an improv comedy breakout session online that company event planners book for their online events.


They say "laughter is the best medicine" for a reason. Laughing not only helps improve physical and mental health, it also strengthens relationships and enhances creativity. Best of all, laughing "medicine" is free and fun to take. Laughing has been scientifically proven to reduce stress, promote happiness, and provides other physical health benefits. Think of how you feel after watching your favorite comedy or after spending a few hours with a hilarious friend. There's nothing like a full-belly laugh. Learn how to inject more humor into your workplace and how it can help your employees be healthier overall by signing up for Scott's Improv Fun & Games online experience today.
Mental Benefits of Laughter
If you're in a bad mood, laughing is one way to cure it immediately. Whether it's stress from too many deadlines piling up or an overbearing teammate, taking a moment to laugh it off can do wonders for the brain. Aside from reducing stress and minimizing negative feelings like anger and anxiety, laughing can help you be more creative, too. A study from Northwestern University found that boosting your mood through laughter can lead to successful brainstorming and creative output.
Perhaps the biggest benefit of laughing is the activation of both sides of the brain. Laughter kick starts the lymphatic system — which connects the brain's right and left sides — leading to enhanced learning opportunities. If you need to brainstorm harder or get a bit more creative, go visit with your favorite witty colleague or watch a funny video before diving in.
Why Laughing at Work Matters
It doesn't hurt to have a good time while also getting work done. Happier, livelier workplaces tend to be high-energy but also output excellent products and services, too. If you can make light of challenging work projects and have fun while doing it, do so!
Our group rate for one hour is $310 for up to 10 participants. Click HERE to book your private group today!
A few reasons to have a good laugh on the clock: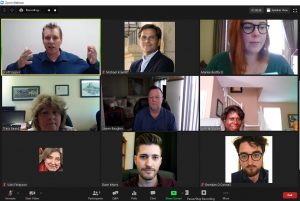 Laughing raises energy levels and increases focus
Alleviates stress during high-pressure projects
Laughing together builds trust and stronger team relationships
A sense of humor encourages thinking "outside of the box"
Meetings that are more "fun" tend to be more effective
Studies have found that humor at work is associated with an overall better work environment.
Employees tend to perform better and are more satisfied overall.
In addition, there is less reported stress and burnout. Talk about winning all around.
Laughter brings people together and strengthens relationships
There's a good reason why TV sitcoms use laugh tracks: laughter is contagious. You're many times more likely to laugh around other people than when you're alone. And the more laughter you bring into your own life, the happier you and those around you will feel.
Sharing humor is half the fun—in fact, most laughter doesn't come from hearing jokes, but rather simply from spending time with co-workers. And it's this social aspect that plays such an important role in the health benefits of laughter. You can't enjoy a laugh with other people unless you take the time to really engage with them. When you care about someone enough to switch off your phone and really connect face to face, you're engaging in a process that re-balances the nervous system and puts the brakes on defensive stress responses like "fight or flight." And if you share a laugh as well, you'll both feel happier, more positive, and more relaxed—even if you're unable to alter a stressful situation.