Coronavirus: Nyack New York Hospital seeking iPad, tablet donations to connect patients with loved ones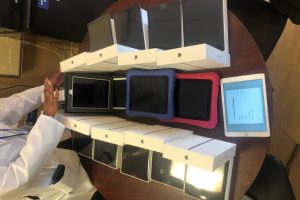 One of my High School best friends, Dr. Evan Kaminer, is organizing this Go Fund Me COVID-19 iPad fundraiser on behalf of Montefiore Nyack New York Hospital.
Donations are 100% tax deductible.
According to Dr. Kaminer, "We need iPads! One of the worst aspects of the COVID disaster is inability of family members to see their loved ones in the hospital. The social isolation is bad for patients and frustrating for loved ones. Family members want to see and say words of encouragement to even our sickest patients on ventilators.
I am raising money to buy iPads so our patients can video chat with their loved ones.
This money goes directly to Montefiore Nyack New York Hospital."
Dr. Evan Kaminer will not have access to these funds.
Thank you friends for your support!
Dr. Evan Kaminer, president of medical staff at Nyack New York Hospital. (Photo by Shay Frey)