Here's a Gorgeously Wed Blog post from Dorothy Gorczyca-
Thanks Dorothy!
We are an up and coming wedding and lifestyle blog called Gorgeously Wed. We recently wrote about Gabi and Brian's wedding and you were linked as one of their fabulous vendors. We hope you enjoy the post and blog!
Dorothy Nee Gorczyca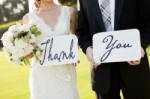 Music. "For the reception/dancing portion, we hired Scott Topper as our DJ. He was awesome! He played lots of our family favorites and songs we knew our friends would like too, and everyone had a blast. We just wanted everyone to dance and the floor was packed the whole night."
What an amore wedding and very pretty bride! The flowers and details of this wedding remind me of Spain and this couple is oh, so charming. Having met in college in Santa Barbara, Gabriela and Brian got married on a sunny September day in Santa Barbara at the Montecito Country Club. I love the loose arrangements of flowers and delicate details of this festive wedding; soft and delicate cream linens, golf and bicycle accents and fun pinks, purples, plums, deep reds and cream florals. Even the cake with bright pink flowers looks delicious. Their very perfect day was captured by the lovely Allyson Magda from Allyson Magda Photography. Enjoy! Love, D.
From the Bride. September is always a gorgeous month and we wanted to have an outdoor ceremony so that we could enjoy the ocean view, lush green mountains, and Spanish architecture of beautiful Santa Barbara. We quickly agreed that September would be the perfect time of year. I always loved the Montecito Country Club and thought it would make for a gorgeous wedding venue. Brian and my mom also fell in love with it right away. Planning the wedding with my mom was as special and fun as anything. Our wedding vision was very much inspired by the venue. We wanted to work with the Spanish feel of the country club.
We'd love to hear from you, so drop us a note or submit your wedding at info@gorgeouslywed.com.
Namaste and thanks for stopping by.
xoxo
Dorothy