Santa Barbara Vintage DJ Party Truck
Vintage DJ Party Event Truck
Social Distance Vintage DJ Party Truck
Her name is "Old Yella!" She's a 1951 F2 Ford Farm Pickup DJ Truck fully restored and ready to PARTY! People love our DJ truck and all heads turn to see her and photograph this remarkable and memorable dj prop music truck.
From 80's music to country music to Top-40 dance music we've got you covered!
We offer a unique one-of-a-kind very cool event mobile DJ vehicle that we drive to your event! Our mobile Classic DJ Party Truck is a part of Scott Topper DJ Productions. Our Professional DJs perform on the truck bed of this unique mobile event DJ party vehicle for all outdoor and indoor dj events.
About our Cool Classic DJ Booth:
On the bed of our DJ truck you will see our vintage DJ Table base made up of a Late 19th Century Antique Metal and Wood Covered Round Top Travel Trunk. Placed on top of the retro travel trunk are two vintage California Surfboards and an old rustic wood barn door from the early 1900's being used as a DJ table top.
The mobile DJ Truck Bed is 6-1/2 feet long, 4 feet wide, and 1-1/2 feet deep.

Planning a Live Social Distancing DJ Dance Party School social distancing dance party? Hire us!
We are BACK and ready to party! We are excited to celebrate and host you, your friends and family safely again.
VINTAGE DJ PARTY TRUCK RENTALS FOR ALL YOUR EVENTS
#1 RATED VINTAGE PARTY DJ TRUCK COMPANY IN SANTA BARBARA AND LOS ANGELES, CA
We created a socially-distant live DJ set from our DJ booth on the back of our amazing retro-cool sound blasting 1951 F2 Ford pickup Truck party vehicle, bringing fun and joy to party-goers at events and weddings in Santa Barbara and Los Angeles.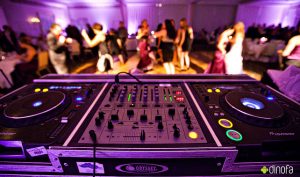 Are you looking for unique and different outdoor DJ entertainment for your next event? Our 1951 F2 Ford Farm Pickup DJ truck is equipped with speakers and a professional DJ from Scott Topper DJ Productions.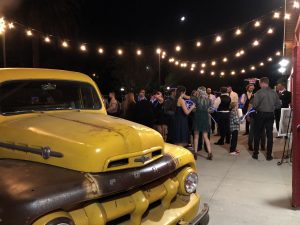 Our Classic DJ Party Truck offers the perfect option for social distancing graduations, drive by parades, outdoor street parties, curbside birthdays, backyard weddings, wine country weddings, rustic themed events, and neighborhood block parties! Want a retro-vibe for your next outdoor dj event?
Here's our Vintage DJ Party Event Truck Package:
-No charge for phone or Zoom meetings with your DJ.
-No charge for setup and takedown.
-All music & sound speaker equipment needed.
-Vintage DJ Party Event Truck
-Awesome DJ/Emcee
-Wireless Microphone
Additional Costs:
-Gas Generators
-L.E.D. uplights
-Italian Market String Lighting
-Moving Dance Floor Party Lighting
-Travel
We offer dj party music to big crowds with DJ Scott Topper on the back of the DJ Truck bed spinning the fun dance floor vibes. DJ Scott Topper runs one of the most well-known and reliable mobile DJ entertainment companies in Santa Barbara, Montecito, Goleta, Santa Ynez, Solvang, San Luis Obispo, Pismo Beach, Calabasas, Camarillo, Malibu, Thousand Oaks, and Los Angeles.
A party truck with DJs on the truck bed top that can create pop-up dance parties for your next event. This a great option to hear and dance to DJ music while staying socially distanced in Santa Barbara, CA and Los Angeles, Ca.
If you can't join the party, why not bring it to wherever you are? That's the basic concept behind the Santa Barbara mobile DJ Delivery truck. We can bring our "mobile tunes" to your next special event or outdoor fundraiser.
CLICK HERE FOR PRICING AND AVAILABILITY!
This is truly one of the most unique event prop dj truck you will ever experience. Book "Old Yella" for your next outdoor dj event today!