SANTA BARBARA DJS Present SANTA BARBARA TRAVEL EXTRAVAGANZA SHOW
WIN A trip for 2 to Europe w/ airfare on Delta or hotel nights in Thailand*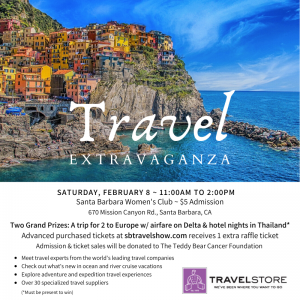 Featuring Santa Barbara DJ Scott Topper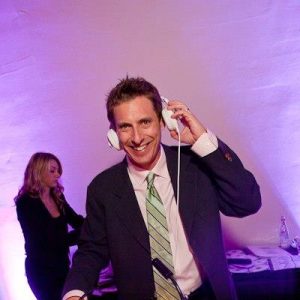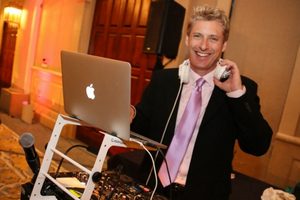 TravelStore.com is hosting a travel show in Santa Barbara.
The Santa Barbara office for TravelStore.com is hosting a travel show.
YOUR NEXT GREAT TRAVEL MEMORY BEGINS HERE:
ONE DAY ONLY! SPECIAL DISCOUNTS! GIVEAWAY DRAWINGS!
Saturday, Feb. 8, 2020 ◊ 11 a.m. – 2 p.m.
Santa Barbara Women's Club ◊ 670 Mission Canyon Rd., Santa Barbara, Calif.
KNOW BEFORE YOU GO:
► All proceeds, including $5 admission as well as raffle ticket sales, will be donated to the Teddy Bear Cancer Foundation, a local charity
► Receive first-hand travel information from the world's leading travel companies and travel experts
► Check out what's new in ocean and river cruise vacations
► Explore adventure and expedition travel experiences
RSVP YOU'RE COMING:
Call +1 (805) 963-6521 or go to our Eventbrite page!
​SIGN UP for our travel sweepstakes and RECEIVE our exclusive travel offers!
TravelStore Santa Barbara office is located at:
1324 State St., Ste. C, Santa Barbara, Calif.
SATURDAY, FEBRUARY 8 ~ 11:00AM TO 2:00PM
Santa Barbara Women's Club ~ $5 Admission
Advanced purchased tickets at sbtravelshow.com receives 1 extra raffle ticket
Admission & ticket sales will be donated to The Teddy Bear Cancer Foundation
(*Must be present to win)
670 Mission Canyon Rd., Santa Barbara, CA
Two Grand Prizes: A trip for 2 to Europe w/ airfare on Delta & hotel nights in Thailand*
Meet travel experts from the world's leading travel companies
Check out what's new in ocean and river cruise vacations
Explore adventure and expedition travel experiences
Over 30 specialized travel suppliers
Two Grand Prizes: A trip for 2 to Europe w/ airfare on Delta & hotel nights in Thailand*
SATURDAY, FEBRUARY 8 ~ 11:00AM TO 2:00PM
Santa Barbara Women's Club ~ $5 Admission
Advanced purchased tickets at sbtravelshow.com receives 1 extra raffle ticket
Admission & ticket sales will be donated to The Teddy Bear Cancer Foundation
(*Must be present to win)