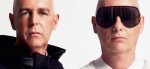 There are many speeches made but very few of them stand the test of time and become known on a wider platform, however it looks like the gay rights speech made by Panti Bliss could be one that lives on forever, especially now that it has been put to music by the renowned Pet Shop Boys. Drag queen Panti Bliss, whose real name is Rory O'Neill, gave the speech which has become known around the world during an event held in Ireland back in February of this year.
The speech spoke out about homophobia in Ireland and although it was originally only presented to the audience at the Abbey Theatre in Dublin, thanks to it being filmed and then uploaded online, it then went viral across the globe thanks to its clear and strong message about gay rights. The speech by Panti Bliss saw many people praising the drag queen for speaking out on behalf of the LGBT community with support coming some some very famous names including Stephen Fry and international pop superstar Madonna. While the Panti Bliss speech may have already grabbed the headlines it is now to be immortalised through music by the Pet Shop Boys. The electronic duo, known for their huge hits including West End Girls and It's A Sin, have used the contents of the speech to create a new dance track entitled "The Best Gay Possible".
Around 10 minutes of the original speech is sampled on the trance track showing the support for the cause by the Pet Shop Boys and their desire to keep the issue in the news and at the forefront of the minds of the public. The track, The Best Gay Possible, was released on the Pet Shop Boys website and it has already been given the seal of approval by Panti Bliss with Rory O'Neill taking to his twitter account to give the thumbs up to the track. O'Neill wrote on Twitter: "Pet Shop Boys made an amazing track out of my Noble Call speech. Seriously, they did."
It is not everyday that a speech is put to music or that a speech is able to move from the forum it was originally intended for and into the wider public sphere.The notoriety of the Panti Bliss speech and the success that it has subsequently had is in no small part die to the fact that it was a passionate speech delivered in a memorable way, however the power of the internet in spreading the speech across the world shows that their need be no limit to the audience of any speech.

DJ Scott Topper