Virtual Holiday Trivia Challenge Party Producers
Online Trivia and Holiday Party Ideas for the Workplace
Virtual Trivia Challenge Show Host Producers
Tired of a workplace lockdown isolation situation?
Looking for a unique online Holiday Party idea to bring your team together and raise their spirits?
Why not try a Workplace Virtual Holiday Party Trivia Challenge?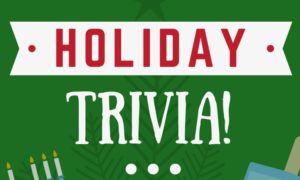 It's super fun!
Virtually Hosted by Scott Topper and Michael Kramer of Hypecats Video Producers
Watch the FUN Workplace Virtual Holiday Party Trivia Challenge Below:
(Previously recorded and not now live on Zoom)

2020 HypeCats Holiday Trivia Party from HypeCats Video & Ameravant on Vimeo.
Post Your Answers in the Virtual Zoom Trivia Chat Window…totally interactive and FUN!
– Jeopardy theme song plays after the question is asked.
– Drumroll music before announcing the winners.
– Applause music after announcing the winner
– Confetti falls down when the winner is announced
Sample Virtual Holiday Trivia Challenge Party Questions and Answers
Q: One of Santa's reindeer shares a name with a famous symbol of Valentine's Day. Which reindeer is that?
A: Cupid
Q: What Christmas-themed ballet premiered in Saint Petersburg, Russia in 1892?
A: The Nutcracker
Q: In 1981, Bob and Doug McKenzie released their own version of a classic Christmas song. Which song is that?
A: The Twelve Days of Christmas
Q: In the song "Frosty the Snowman," what made Frosty come to life?
A: An old silk hat
Q: What Christmas decoration was originally made from strands of silver?
A: Tinsel
Q: Who played George Bailey in the Christmas classic "It's a Wonderful Life?"
A: Jimmy Stewart
Q: Per a recent holiday fad, what "spy" hides around the house, reporting back to Santa on who has been naughty and nice?
A: The Elf on the Shelf
Q: What Christmas beverage is also known as "milk punch?"
A: Eggnog
Q: What animated 2004 film is about a train that carries kids to the North Pole on Christmas Eve?
A: The Polar Express
Q: What much-reviled Christmas edible is known for its long shelf life?
A: Fruitcake
Happy Holidays!