Santa Barbara Wedding DJs
Scott Topper Productions
5 REASONS WHY YOU SHOULD HIRE A PROFESSIONAL SANTA BARBARA WEDDING DJ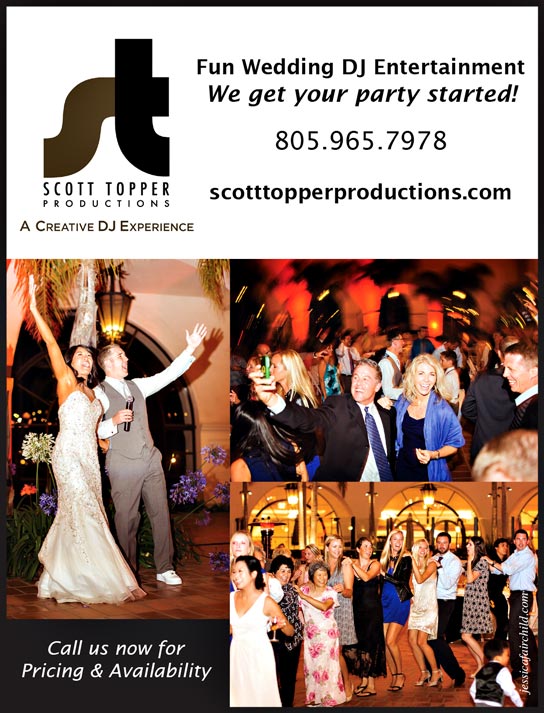 1. Equipment – Are you sure that the amateur equipment that you plan on using is going to be able to boom through a spacious hall? The speakers that seem more than adequate in somebody's house might be embarrassing inside a room full of 300 people. It's difficult to dance to whispering lyrics or those that have become distorted by inadequate equipment. What if something breaks? A professional will be prepared for such a possibility with back-up systems available, but your uncle, neighbor, or friend of a friend probably won't be.
2. Liability Insurance – If something happens to the DJ's equipment, you don't want to be responsible for replacing it. A professional will be covered.
3. Presentation – A professional DJ will show up looking like one and will treat your guests as such. Do you want your DJ showing up in an Aeropostale t-shirt and ripped jeans? Maybe that friend of a friend is more interested in flirting with the bridesmaids . . . or the bride's mother! Do not be embarrassed by your Master of Ceremonies. Keep it classy.
4. Investment – Yours and theirs. You are investing in your own memories and those of everyone who will be in attendance. The DJ has an investment in their business and their reputation. They are going to strive to please you and your guests. They will be dedicated to making the night everything you want it to be. An amateur just does not have the same incentive. They are in it for a few bucks or because they thought they might be able to have some fun and meet some people. Their priorities are not the same as yours. The wrong DJ can turn your dream wedding into a nightmare.
5. Peace of Mind – You are marrying the love of your life and having a fabulous time! The last thing you are going to want to do is worry about whether or not the DJ is showing up, if he has the right music, or if he has drank too much. After all, you are already going to be checking your hair, trying to maneuver in that dress, and keeping the peace between extended family members. Don't give yourself one more thing to increase your anxiety. Hire a professional DJ, and know that the evening's entertainment is in good hands. You can relax and enjoy yourself.