Santa Barbara DJ Scott Topper presents: First Thursday
Hope you can join us for the upcoming 1st Thursday Curated Cocktails: Sexy Librarian Party!
Thursday, October 2, 2014
6 – 8pm

Curated Cocktails: Sexy Librarian
Co-hosted by Junior League of Santa Barbara and The Goodland with Santa Barbara DJ Scott Topper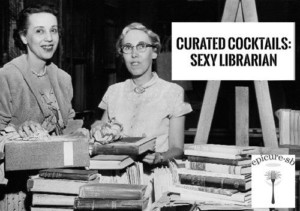 Join us on Thursday, October 2nd for after hours access to the Museum and $5 signature cocktails created by Outpost at The Goodland's resident mixologist Chris Burmeister inspired by our current exhibition "Requiem for the Bibliophile." Including a special DJ set by Scott Topper and ongoing exhibition tours. An epic offering of epicure.sb 2014.
Museum of Contemporary Art Santa Barbara
Paseo Nuevo (Main)
653 Paseo Nuevo
Santa Barbara, CA 93101
MCASB is located at 653 Paseo Nuevo, Santa Barbara, CA, on the Upper Arts Terrace of Paseo Nuevo Shopping Center at the corner of Chapala and De La Guerra Streets
Join MCASB and help us bring exciting new exhibitions to the community, expand our programs for youth and adults, and support emerging artists.
The MCASB cultivates a unique arts community: a society of art lovers, art patrons, and artists that actively participate in the intellectual and artistic life of the museum. MCASB provides high-quality programs, compelling lectures, and entertaining events for its constituents. We strongly believe that membership is instrumental to the well-being and success of the institution.
In keeping with the MCASB's mission, we equip our constituency with the tools and frameworks necessary for incorporating contemporary art into their lives: art parties, artist conversations, and professional development courses. This isn't the typical membership program but rather a support structure that promotes lifelong learning, interaction, and community building through the arts.
ALL MEMBERS ENJOY:
Being a part of a community of like-minded art lovers
Invitation to attend Bring Your Own Art night and critique
One complimentary beverage at public programs and events with membership card
An invitation to the State of The Arts, a bi-annual meeting that brings together all our members for discussion on upcoming events, exhibitions and programs
Opportunity to sign up for trips before they are announced to the public
15% discount on purchasing limited edition works by exhibiting artists
15% discount in our on-line store and fundraising event