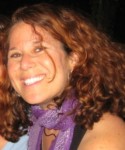 About Jennie:
Jennie Reinish started in television production working for CNBC in 1993. She has extensive experience working in both feature and documentary films. Her most recent documentary, "Behind the Lines" is a multi-national award winner. She has worked with such notables as Tom Pollock and Ivan Reitman at Montecito Picture Company , on television programs such as Falling Skies and Say Yes to the Dress, and on commercial projects with Gatorade, Sansum Clinic, CNN and ABC World News. Her passion for creating intensely personal documentaries such as wedding videos and life histories was the catalyst for the creation of Riviera Productions. When not shooting and editing, Jennie teaches a filmmaking workshop for teens. In her free time, Jennie volunteers at the local no-kill dog shelter where she serves on the board of directors and as the volunteer coordinator.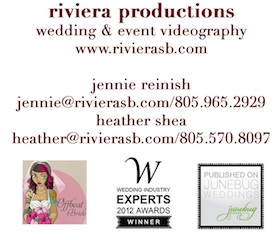 About Riviera Productions:
We are filmmakers, creative souls and the best of friends. Our friendship began in 2000 at a backyard BBQ that led to a spontaneous road-trip to Vegas to see Jimmy Buffet. And that was just the beginning…
We quickly discovered our individual talents and creativity led to an effortless collaboration. We have over 25 years combined experience in video production, including everything from feature documentaries to cutting-edge surgical films.
Our focus on weddings began with Heather's wedding in 2005. [Jennie was a bridesmaid in red and forced to wear high-heels] Weddings are sacred. The love, joy, friendship and celebration is overwhelming and we experience that each time we film. We are passionate about capturing those feelings and giving you the chance to see, and hear, and feel your wedding again…..and again.
Here's what we will find out about Jennie on COX 17 TV:
1) How did you get started in video production?
2)Why weddings?
3)Talk about your process, how long do you take to create each video?
4)What would you say to a couple who wasn't sure they want a wedding video?
5)What is the best part of your work?
6)What do you do in your spare time?
Bonus question:
What keeps you motivated, learning, aspiring to improve?