Montecito, CA Silent Disco Special Event DJs
Silent Disco Montecito Hotels Celebrations and Special Events DJs
A silent disco or silent rave is an event where people dance to music listened to on wireless headphones.
Rather than using a speaker system, music is broadcast via a radio transmitter with the signal being picked up by wireless headphone receivers worn by the participants. Those without the headphones hear no music, giving the effect of a room full of people dancing to nothing.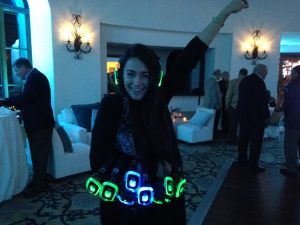 In the earliest days of silent discos, before 2005, there would be only one channel available to listen to music through. Over time, the technology moved along to where there were two, and later technology allowed for a third channel that three separate DJs could broadcast over at the same time.
Silent discos are popular at music festivals as they allow dancing to continue past noise curfews. Similar events are "mobile clubbing" gatherings, where a group of people dance to the music on their personal music players.
We provide silent disco dj entertainment at the following Santa Barbara and Montecito, CA locations:
Rosewood Miramar Beach Montecito, CA Silent Disco DJs
1759 S Jameson Ln, Montecito, CA 93108
Life's milestone occasions are marked in exquisite style at Rosewood Miramar Beach. Grand matrimonial events are held in stunning venues that showcase the resort's unrivaled oceanside setting. The 8,000-square-foot Great Lawn elevates wedding ceremonies with infinite ocean views, while Miramar Beach provides an unforgettably romantic beachfront stage for the exchange of vows and celebratory soirées.
Four Seasons Resort The Biltmore Santa Barbara Silent Disco DJs
1260 Channel Dr, Santa Barbara, CA 93108
Tucked between the Pacific Ocean and the Santa Ynez Mountains sits our iconic Resort, a historic hideaway on the American Rivieria where celebrities come to play. Set within 22 lush acres, woven with secluded courtyards, fountains and sun-dappled, red-brick pathways lit by gas lanterns, our Spanish Colonial villas and bungalows invoke the same casual glamour that first delighted Hollywood's power players in the 1930s. Go for a stroll along Butterfly Beach, spend the day lounging poolside at Coral Casino Beach and Cabana Club, or pay a visit to our award-winning Spa – then meet us at Ty Lounge for an Original Moscow Mule as you recount the day's adventures from a seat around the fire.
Montecito Club Silent Disco DJs
920 Summit Rd, Santa Barbara, CA 93108
A spectacular setting with stunning panoramic ocean views, Montecito Club is a prestigious location to suit an array of occasions. The Great Room features unmatched detail and twelve Baccarat crystal chandeliers, while the ballroom holds true to its history with original wood beam ceilings and refinished wood floors offering a unique setting that can be transformed to suit any event needs. Taking advantage of the Club's unrivaled ocean and harbor setting, the 20,000-square foot Great Lawn enhances wedding ceremonies with infinite views. All spaces make full use of natural light and location, making it one of the most prestigious and beautiful venues in Santa Barbara.
San Ysidro Ranch Silent Disco Special Event DJs
900 San Ysidro Ln, Montecito, CA 93108
San Ysidro Ranch has an array of options that can accommodate large celebrations
and intimate gatherings. Set the tone for an unforgettable experience
with an incomparable venue and exceptional service amidst landscaped gardens
surrounded by the Santa Ynez Mountains and overlooking the Pacific Ocean.
The Cottages At Polo Run Silent Disco DJ Special Events
3282 Via Real, Carpinteria, CA 93013
A truly charming cluster of 3 Historical cottages nestled together on 7 open acres adjacent to the Santa Barbara Polo grounds. The property consists of 3 units: a 4 bedroom main house, 2 bedroom cottage and studio unit. This allows you to split your party up into different sleeping quarters for privacy. The cottages share a 400sf interior courtyard patio. Use for an intimate gathering.