Santa Barbara Vacation Rentals by Owner Home Wedding DJs
Santa Barbara Private Home Wedding DJs
Private Home Wedding DJs in Santa Barbara
Planning a Santa Barbara Wedding and need a DJ at a Santa Barbara vacation rental property?
Vacation Rental by Owner Private Home Wedding DJs Santa Barbara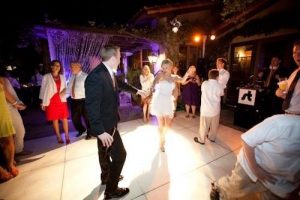 Santa Barbara Wedding DJs
Music can really set the tone for your wedding day. That's why finding the right wedding DJ is such a big deal. You'll want to find a wedding DJ who has great musical taste and can fill up your dance floor! The best way to find a great wedding DJ is to read our reviews from past clients.
Scott Topper DJ Productions is a professional wedding DJ and entertainment service based in Santa Barbara, California. Scott Topper, the owner of the company, has more than 25 years of experience within the industry, delivering high energy performances every time.
Thinking about Hiring a Santa Barbara Wedding DJ?
Consider What a Professional Santa Barbara DJ Brings to the Table
One way to think of a DJ is as a host. After all, he's the one with the microphone, the one all of your guests will be looking to in order to know what to do next. Is it time to eat? When do we dance? Are we going to catch the bouquet now? For this reason, you want to look for someone who's friendly, presentable, and confident.
The day is about the couple getting married, of course, but the DJ guides the evening and helps set the mood. We've all been to those weddings when the rap music started way too early and no one got out of their seat. A good DJ can read the room, get people involved, and waits until Grandma goes home before playing Sir Mixalot.
Playing music at an event like a wedding often requires a music license. Even if you've purchased music for your personal enjoyment, those music rights don't actually extend to group settings and large audiences. A professional DJ should be licensed, however, so that's one less thing to worry about.